Zheng Xiaoyu, former director of China's State Food and Drug Administration (SFDA), was sentenced to death by a Beijing court Tuesday morning.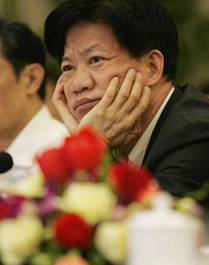 Zheng Xiaoyu

Zheng, 63, was convicted of taking bribes and dereliction of duty, according to the first instance hearing of the Beijing Municipal No. 1 Intermediate People's Court.

He received the death penalty on the graft charge and 7 years in imprisonment for the charge of dereliction of duty. All Zheng's personal property was confiscated and he was deprived of his political rights for life.

The death sentence was appropriate, according to the court, given the "huge bribes involved and the great damage inflicted on the country and the public by Zheng's dereliction of duty".

The bribes taken by Zheng, including cash and gifts, were worth more than 6.49 million yuan (about 850,000 U.S. dollars), according to the court. The bribes were given either directly or through his wife and son.

The court said Zheng "sought benefits" for eight pharmaceutical companies by approving their drugs and medical devices during his tenure as China's chief drug and food official from June 1997 to December 2006.

"(Zheng's acts) greatly undermined the uprightness of an official post and the efficiency of China's drug monitoring and supervision, endangered public life and health and had a very negative social impact," the court said.

Related readings:


China to check drug production and sale


Countries mull drug-control measures

Drug misuse kills 200,000 Chinese a year - doctors


Former drug watchdog head to go on trial

Zheng violated reporting rules and decision-making processes when approving medicines from 2001 to 2003. He failed to make careful arrangements for the supervision of medicine production, which is of critical importance to people's lives, said the court.

The consequences of Zheng's dereliction of duty have proved extremely serious. Six types of medicine approved by the administration during that period were fake medicines. Some pharmaceutical companies used false documents to apply for approvals, the court said.

It is not yet known whether Zheng will appeal.

A report in China Business News earlier this month said Zheng's wife, Liu Naixue, and his son, Zheng Hairong, had been arrested for involvement in the case, citing a "well-informed source".

| | | |
| --- | --- | --- |
| 1 | 2 | |
(For more biz stories, please visit Industry Updates)