Express delivery giant DHL will invest several hundreds of millions of US dollars in its seventh regional hub in the Asia-Pacific region and make a decision between Shanghai and a South Korean city for the hub in two months.
Jerry Hsu, president of DHL Greater China and South Korea, told China Daily yesterday in Beijing that his company will announce the Northeast Asia regional hub within two months, and Shanghai and a South Korean city are in the running for the status.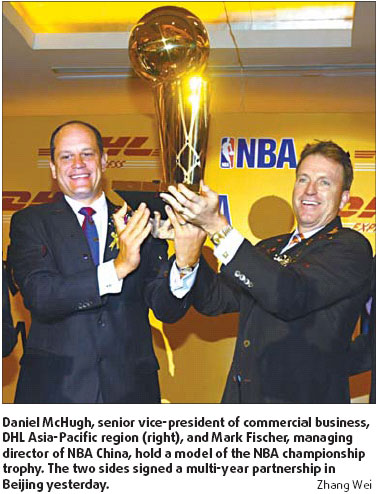 "We are still evaluating factors like landing rights, oil prices and local infrastructure, and will make a decision soon," said Hsu.
If Shanghai is chosen, the investment to build the facility may double the German logistics giant's total investment on the mainland in the past five years. DHL has committed to invest $325 million on the mainland from 2003 to 2007.
China has been one of the fastest-growing markets for the logistics firm under Deutsche Post, growing by about 35 percent a year.
Hsu said DHL has a 30 percent market share in the Chinese express delivery segment, far ahead of its competitors such as Fedex, UPS or local rivals like China Post and private firms.
UPS, a major competitor of DHL, also announced last month that it will establish an air delivery hub in Shanghai, the fourth such facility in the Asia-Pacific region, with an initial investment of $20 million.
Fedex said in March that it would open a China regional hub in Hangzhou, with a first-stage investment of $2 million. It also bought out its Chinese partner DTW in their joint venture.
DHL, the first foreign delivery firm to launch domestic services in China, also announced yesterday that it will partner the National Basketball Association (NBA) to promote its brand among the Chinese.
The firm will be the official express and logistics provider for NBA in China and Asia for at least three years to ship equipment like professional floors and backboards for NBA games in the region.
DHL, following the other 18 marketing partners of NBA in China, including Adidas and Lenovo Group, will ship the NBA trophy for a tour in Asia in 2007 and 2008 and participate in the "Basketball without Borders" campaign in the region.
(China Daily 05/15/2007 page13)