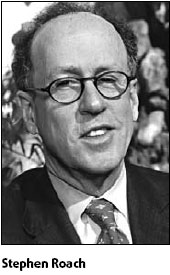 Morgan Stanley, one of the world's leading investment banks, yesterday appointed Stephen Roach, currently the firm's chief economist, as its new Asia chairman.
The firm is betting Roach's decade-plus experience studying Asia will help bring in more business in the region. Roach will begin his new role in June and move to Hong Kong in September, the firm said in a statement yesterday.
"The opportunity fits well with my competitive strengths as a global economist. I have been especially focused over the last 10 years in developing a deeper understanding of China, India and the other economies in Asia," Roach told China Daily in an interview yesterday.
In his new role, Roach will lead the Asia team in takeover and stock sale ventures in China, where he spent a decade studying.
"I will focus on managing relationships with the government, regulators, and clients across the region," he said.
Roach, who has a PhD in economics from New York University, joined Morgan Stanley in 1982.
In recent years, he has advocated China shift from an export- and investment-led economy to a consumer-led one.
Roach, who forecasts China overtaking the United States as the biggest contributor to global growth by 2025, cautioned that China needs to re-balance its economy from quantity growth to quality growth.
"China is at a critical juncture in its extraordinary development saga, but it will take both time and determination to pull it off," he said.
John J. Mack, Morgan Stanley's chairman and CEO, called Roach "an intellectual leader on many global economic issues, including those related to China".
So far in 2007, Morgan Stanley is the second leading advisor on overseas share sales by Chinese companies, up from 10th in 2006, according to data compiled by Bloomberg.
On April 18, the world's second-largest securities firm said it hired Blair Pickerell from HSBC Holdings Plc to head its Asian investment funds unit.
(China Daily 04/24/2007 page14)