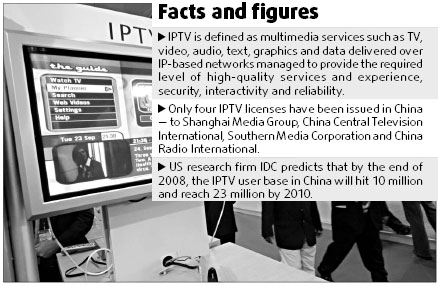 The development of Internet Protocol Television (IPTV) in China hinges on the industry's ability to meet customer demand.
So said participants at the IPTV World 2007 conference held recently in Beijing.
IPTV is defined as multimedia services such as TV, video, audio, text, graphics and data delivered over IP-based networks managed to provide the required level of high-quality services and experience, security, interactivity and reliability.
"Meeting customer demand will be crucial for the development of IPTV," said Shi Wei, director of the Economic System and Management Institute at the National Development and Reform Commission.
"Currently, the development of IPTV is mainly driven by technology and not much has been done to meet real customer needs. We should now learn what our customers really want and find a model to develop the business," he said.
Amid the wave of telecom, broadcasting and television convergence, China's telecom industry including operators, equipment manufacturers and content providers is keen to develop IPTV.
China Telecom and China Netcom, the country's two largest fixed-line operators, have been investing in IPTV projects since 2005 by upgrading their broadband networks and building trial IPTV networks.
Shanghai Telecom joined forces with Shanghai Media Group to roll out IPTV services in September last year. Trial services mainly include video-on-demand and remote medical, education and videoconferencing services.
"The convergence of IPTV and NGN (next generation network) will be the mainstay of the industry in the years to come as we see the interconnection of the two," said Tang Xiongyan, deputy director of China Netcom Group's Research Institute. He classified IPTV into two categories TV services and other value-added businesses.
Analysts believe IPTV is a wise choice for telecom operators confronted with diminishing revenue in fixed-line services to expand their business scope and seek further growth areas.
But there are still many problems. For example, telecom operators are still waiting for IPTV or 3G licenses. "The uncertainty of licensing may influence the development of IPTV," Shi said. Only four IPTV licenses have been distributed in China to Shanghai Media Group, China Central Television International, Southern Media Corporation and China Radio International.
"Personally, I believe that the Chinese government will issue 3G licenses before the end of this year," he said, adding only a year and a half is left for the development of IPTV since the 3G systems need almost a year for full deployment.
"Thus this year is of crucial importance for IPTV in China," Shi said. "If it is not well developed this year, the future for IPTV looks grim." Once telecom operators secure 3G licenses, they are more likely to develop mobile TV businesses, which might hamper IPTV's progress, Shi said.
Shi said developing IPTV required comprehensive planning and collaboration. And he said the Ministry of Construction should help facilitate the deployment of fiber to the home (FTTH) infrastructure to enable faster access to IPTV.
The Ministry of Information Industry said more than 70 percent of its 51.89 million broadband subscribers last year were connected to the Internet via copper lines. This is compared to only 150,000 FTTH subscribers.
"IPTV has laid a solid foundation for audio and video frequency services and has helped to accelerate convergence between telecom, broadcasting and the Internet," said James Yong, chief scientist with UTStarcom.
Yong said the development of IPTV involves three stages. Based on linear and non-linear TV programs such as time-shifted TVs and video-on-demand, the first re-broadcasting stage will enable customers to control TV programs in a more interactive way. The second stage will involve wide use of audio and video frequency-based value-added services and e-commerce. The third stage will be convergence, promoting the making of audio and video frequency services.
US research firm IDC predicts that by the end of 2008, the IPTV user base in China will hit 10 million and reach 23 million by 2010.
(China Daily 04/20/2007 page15)