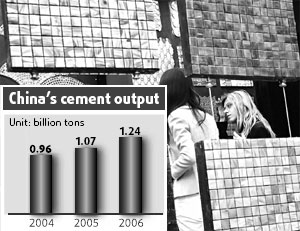 China's building material industry has seen rapid growth both in production and sales in 2006, with the industry restructuring also making substantial progress, according to theNational Development and Reform Commission(NDRC).
The industry recorded a revenue of 1.15 trillion yuan last year, up 29.3 percent from 2005. Profits amounted to 60.3 billion yuan, an increase of 47.1 percent, the nation's top economic planning body said.
Cement manufacturing is the largest sector in China's building material industry. Last year, the sector's profit saw a rapid growth of 92.6 percent.
Apart from cement production, other building material sectors such as flat glass, stone materials and construction ceramics also saw over 25 percent growth in 2006.
"In 2007 the nation's building material industry will continue to see double-digit growth," said Hong Liang, an analyst with China Galaxy Securities, adding that the pace will be maintained in the next few years.
"China is now one of the world's largest building material producers, but there are too many small manufacturers in the sector. The industry will inevitably see moremergers andacquisitions in the next few years."
Consolidation
Related readings:


Realty continues sturdy growth


Real estate transactions total US$9 billion in 2006


Real estate: New home prices jump 5.9 percent
The industry will see more consolidation in coming years, with some less efficient and small players knocked out, said Hong.
In the cement sector, 60 key companies will become industry leaders after consolidation, the NDRC said in January.
These 60 will enjoy government support in terms of approval for new projects, mergers and acquisitions, land use and credit. The list includes 12 national cement manufacturers and 48 local firms, including the country's biggest cement company, ChinaAnhuiConch Group.
"The move is to increase the competence of cement producers. Now there are too many small manufacturers in the industry. Industrial consolidation should be heightened," said Hong.