On March 30 Wall Street was shaken by the news that the Bush administration was raising countervailing duties against China. The news initially knocked the stock market 1 percent lower.
But the market calmed down as it became apparent that this was a false alarm, a ploy to get fast-track trade authority through Congress, which empowers the Bush administration to negotiate credibly on complex non-tariff trade measures that require congressional action to implement.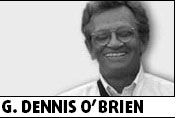 The action was later seen as an attempt to forge a consensus between the White House and Congress to keep US trade policy from turning toward protectionism. Nonetheless the action was a break from the Department of Commerce policy dating back almost 25 years that shields non-market economies from countervailing duties.
Surveys taken last summer by the Chicago Council on Global Affairs found that 58 percent of Americans continue to be in favor of globalization, at least in theory. But fully 43 percent of those surveyed support it only if the government will step in to help out the losers. And there is a growing question as to who those losers will be.
The shift to globalization is becoming ever more disruptive than anticipated. In large part that is due to both the increasing speed of the transition and its changing nature. Globalization has moved from tangible tradable goods to intangible functions in the knowledge based economy.
As a result, the threat of off-shoring and outsourcing has rapidly moved up the value added chain. US white collar workers used to be considered untouchable by global competition. Nowadays once non-tradable services are being offered from points all over the world.
Twenty-five years ago I bought my first Japanese car. Eight years ago I was encouraged to move my call center to India. Six years ago my nephew went from being an IT consultant to being an IT interface with an Indian consultant whose clients are in Boston.
Today, my son, a newly minted computer scientist, competes with other newly minted computer scientists from Yunnan Province in Southwest China. My partner's software development operations, which used to be in Lexington, Massachusetts, are in Gdansk, Poland. And my daughter's boyfriend, an MD radiologist in Boston, competes with doctors all over the world.
Medicine, accounting, analytic services, software design, programming, engineering, economics, architecture all have become fair game. Thomas Friedman's economic paradigm of a "flat world" has indeed taken over. In Friedman's words, the global "web-enabled platform for multiple forms of sharing knowledge and work, irrespective of time, distance, geography and increasingly language" has reached into almost every area of our lives.
This flattening coincides with a massive increase in the global labor force of more than 1.5 billion new participants from China, the former Soviet Union and India.
Over the last dozen years, this influx literally doubled the world's existing workforce. The workers also joined the world's market economy with very little capital in hand. The result is a glut of labor and a rising demand for capital. Thus, the rewards of capital went up as the economic bargaining power of labor began to disappear.

| | | |
| --- | --- | --- |
| 1 | 2 | |
(For more biz stories, please visit Industry Updates)