China aims to reduce reliance on coal and oil despite soaring demand for the commodities, the country's top economic planner has revealed in an energy sector plan for the five years up to 2010.
The change was charted because of the high environmental and human cost of coal mining as well as soaring oil prices, the National Development and Reform Commission (NDRC) said in a report published yesterday.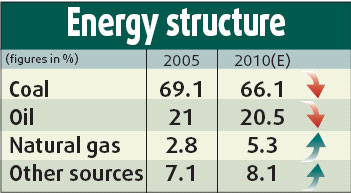 In 2010, the targeted ratio of coal in total energy consumption is 66.1 per cent, down from 69.1 percent in 2005; and oil, 20.5 percent, down from 21 percent.
The proportion of natural gas, however, will increase from 2.8 percent to 5.3 per cent. The share of nuclear and hydro power as well as other forms of renewable energy will rise from 7.1 percent to 8.1 per cent.
Soaring demand for coal has resulted in loose safety controls and illegal mining, leading to many fatal accidents in recent years. Coal mining has also contaminated water resources in many places.
"Coal's dominant role in our energy consumption structure has caused many environmental and social problems and has brought about a grave challenge for sustained development," the plan said.
At the same time, the country has increasingly felt the pinch of surging international oil prices.
Related readings:


Energy rating labels proposed


China not to follow US energy consumption model


Nations vow energy cooperation


State breaks own monopoly in oil trade
Zhou Dadi, director of the NDRC's energy research institute, said coal and oil consumption should be contained because their emissions are believed to be a major cause of global warming.
In addition to reducing dependence on coal and oil, China has also announced a conservation plan to reduce energy consumption per unit of GDP by 20 percent during the five years.
The energy pricing system should also be reformed to encourage conservation, economists say, arguing that prices are low. But policy makers have been cautious about raising prices for fears of inflation and a high financial burden on low-income earners.
The latest plan said annual growth of energy production will be 3.5 percent during 2006-10, which will raise total energy output to 2.45 billion tons of coal equivalent in 2010.
Consumption is expected to increase by an annual rate of 4 percent during the same period, which will amount to 2.7 billion tons of coal equivalent.
The report also said that China aims to raise production of crude oil to 193 million tons in 2010 from 184 million tons last year.
The output of natural gas in 2010 is projected at 92 billion cubic meters, up from 59 billion in 2006.
(China Daily 04/11/2007 page1)