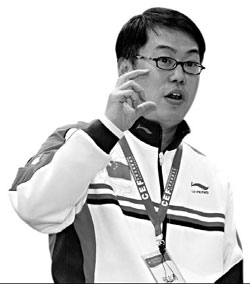 Sponsorship of China's Olympic team was the main vehicle for global exposure for the nation's largest sports product maker Li Ning from 1992 to 2004.
But in 2008, Chinese athletes won't be wearing Li Ning-sponsored uniforms after the company lost out to an international giant.
Insiders estimated Adidas paid some $80 million for the sponsorship, a figure that could surpass Li Ning's annual marketing costs.
So its marketing team came up with another idea.
Accepting that it was "unrealistic" to compete with its international rivals, Zhang Zhiyong, the CEO of the company, instead turned its attention to sponsorship of CCTV's sports channel.
All hosts, hostesses and reporters on CCTV's sports channel will wear Li Ning clothes until the end of 2008. The Li Ning logo must be visible even on formal dress.
"The contract also covers the period of the 2008 Beijing Olympic Games," Zhang said.
The Hong Kong-listed sportswear maker posted a sales volume of $300 million in 2005, while Adidas and fellow global sports brand Nike both had annual sales volumes of over $10 billion. Li Ning usually keeps its marketing expenditure, including athlete sponsorship, within 16 percent of the firm's annual turnover. Its CCTV sponsorship is expected to help the company build its image on a limited budget.

The move is just one step in the company's three-phase strategic plan to become a top international brand.
Li Ning has prioritized China as its most important market in the first phase, which ends in 2008, and the second phase, which spans from 2009 to 2013, Zhang told reporters.
"A good company grows up through hard times," he said, adding that Li Ning is not pursuing sustained growth. In fact, it has kept an annual profit growth rate of over 30 percent since 2002, despite heated competition with international players.
The company aims to be one of the top five sport brands in the world when the third phase ends in 2018.
"In every phase, we keep in mind what should be done in the next three to five years," Zhang said.
He said a large number of privately owned Chinese businesses were very profitable, but lacked a long-term perspective. But Li Ning would "always be prepared for the next phase".
For example, although not a major business, Li Ning has already tapped international markets such as the European Union and the Middle East to sell its garments and footwear.

| | | |
| --- | --- | --- |
| 1 | 2 | |
(For more biz stories, please visit Industry Updates)