Intel Corp announced Monday it will build a $2.5 billion chip factory in China, giving the U.S. company a bigger presence in the booming Chinese market and boosting Beijing's effort to attract high-tech investment.

The factory will produce chipsets, a key component in personal computers, mobile phones and other products, Intel President and CEO Paul Otellini said at a news conference in Beijing.

The facility in the northeastern city of Dalian will be Intel's first wafer fabrication factory in Asia and its first built from scratch since 1992, reflecting China's growing importance as a market for high-tech goods.

It will boost the Santa Clara, California-based, company's investments in China to $4 billion.
Intel Corp's Chief Executive Paul Otellini smiles at a news conference in Beijing, March 26, 2007. Chip giant Intel said on Monday it would invest $2.5 billion to build a microchip plant in northeastern China, with the production of chipsets to begin in 2010. [Reuters]

"This project confirms and further enhances the strategic importance of China in our global strategy and in the IT industry around the world," Otellini said.

"Our goal in China is to support a transition from 'manufactured in China' to 'innovated in China,"' he said.

The factory will use the most advanced circuit etching technology that the U.S. government will permit Intel to export to China at the time production begins, Otellini said.The announcement Monday came two weeks after the Chinese government let Intel's secret slip by announcing that it had granted permission to build the factory.

The Intel factory will be China's biggest foreign high-tech investment to date.

The government is trying to attract such facilities in hopes they will help China evolve from a low-cost manufacturing center into a creator of profitable advanced technologies.

The government hopes the new Intel factory will "bring more value-added research projects" to Dalian, said Zhang Xiaoqiang, vice chairman of China's top planning agency, the National Development and Reform Commission.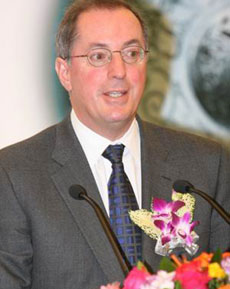 Intel President and CEO Paul Otellini speaks at the signing ceremony in Beijing March 26, 2007. [sina]


The 12-inch (300-millimetre) integrated wafer plant in Dalian city in northeast China's Liaoning province would have a monthly capacity of 52,000 chips. Intel now operates such factories in the United States, Ireland and Israel.

Intel, which has invested about US$1 billion in China so far, already has assembly and test operations in the eastern municipality of Shanghai and Chengdu City in the southwest.

At 90 nanometers, the chips made in Dalian would be some of the most advanced semiconductors manufactured in China.

Construction of the plant will start before the end of this year, Intel said.

Intel is in the midst of a major overhaul, including price and job cuts and new product roll-outs, as it works to stave off recent advances by rival Advanced Micro Devices Inc., which has gained market share in the last few years.

Intel, which entered the China market in 1985, has over 6,000 employees working on assembly, testing, research and development and sales and marketing in 16 cities there, according to the company's Web site.

Intel said last month it would make China an independent sales and marketing region from the beginning of 2007, underlining the country's growing importance as the company's second-largest consumer market after the United States.

Demand for chips in China has soared as the country has risen to become the world's largest population of mobile phone users and as computer sales grow rapidly.

The government wants Chinese companies to spend more on developing profitable technology and is encouraging foreign companies to move high-tech facilities to China.