China might be known for its tea traditions, but today, it's brewing an increasingly sophisticated coffee culture.
As a growing number of Chinese develop a taste for the traditionally Western beverage, their knowledge of coffee is becoming more complex.
"There is a greater awareness of coffee in China than then we first started selling it in China," said managing director of Arabica Coffee Roasters Stuart Eunson.
Having helped shape the culture in its early days, Eunson knows well how far China's coffee culture has come since Arabica first entered the Chinese market in 1994.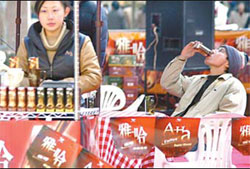 A coffee shop in Nanjing, capital of East China's Jiangsu Province. In less than a decade, coffee culture has percolated into urban Chinese life. [China Daily]

"In 1994, Beijing taxi drivers didn't know what coffee was," Eunson said. He recalls that when he would respond to cabbies' inquiries about what he was doing in China, "They'd say, 'we've heard of coffee. What is it exactly'?"

They were familiar with the word and with the marketing, but not with the product.

However, it didn't take long for a fledgling coffee culture to percolate into urban Chinese life.

"In less than a decade, it went from taxi drivers in Beijing not knowing what coffee was, to it becoming part of the colloquialism," Eunson said.

The speed at which Chinese took to coffee is demonstrated by the 90 percent increase in total volume sales in China between 1998 and 2003, when it reached 6,504.5 tons. Demand for coffee more than doubled between 2001 and 2006 and is currently estimated to be growing by 10 percent a year, according to the International Coffee Organization (ICO).





(For more biz stories, please visit Industry Updates)