ShanghaiInternational Port (Group) Co, operator of China's busiest container port, ranks highest among China's 60 ports in terms of comprehensive competence index, according to a report released today inBeijing.
The report was conducted by www.shippingchina.com, an industry website based in Dalian, and Dalian Maritime University. The comprehensive competence of 60 major ports in China was surveyed by evaluating investment trends, handling capacity, financial situations and geographical conditions.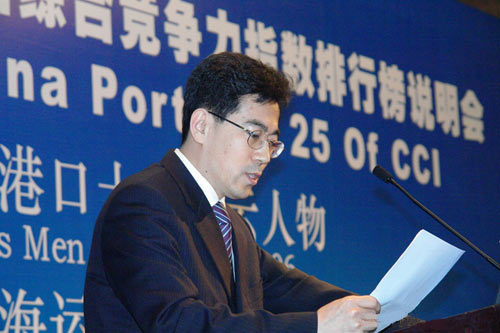 Kang Shuchun, CEO of www.shippingchina.com, gestures at a press conference in Beijing on January 29, 2007. [shippingchina.com]


Shanghai port scored 257.9 points, ranking highest with an absolute advantage among all the ports, said Liu Bin, professor with the Dalian Maritime University.
He categorized it as the only port in China that is internationally competitive.
Shanghai port, Shenzhen port, Qingdao port, Guangzhou port and Ningbo port were the top five out of 60 ports with comprehensive competence on the list, followed byTianjinport, Xiamen port, Dalian port, Lianyungang port and Yingkou port.
The report said that Shenzhen port stood out in container throughput and high operation efficiency; Ningbo port was characterized by transporting private enterprise cargo and Tianjin port, with a great amount of investment, had strong government support.

However, Shanghai port was not chosen by netizens as the best port in terms of service, according to a survey released by Kang Shuchun, CEO of the shipping website, on Monday.
Shippingchina conducted an online survey from December 1 last year until yesterday that covered some 12,000 Chinese respondents. They were asked to evaluate the levels of service of domestic major ports based on staff service attitudes, service regulation and facilities, port handling capacity, charge and direct shipping service.
Surprisingly, the survey found that Lianyungang port topped any other domestic port in terms of customer satisfaction, followed by Yingkou port, Qingdao port, Tianjin port and Shanghai port.
"All respondents are registered users of www.shippingchina.com, and are mainly from foreign trade companies, shipping agencies and shipping lines," said Kang, adding that "Port customers have a lot of say in regard to the level of service."