China Construction Bank (CCB) announced Friday it had completed the acquisition of Bank of America (Asia) Ltd, the wholly-owned subsidiary of Bank of America in Hong Kong, acquiring 100 percent of the equity.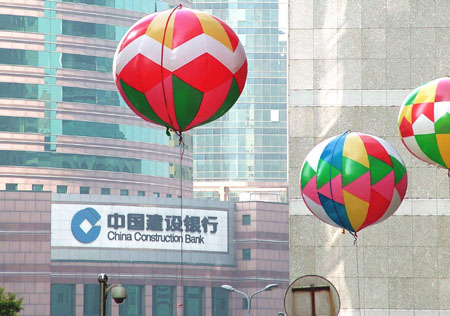 China Construction Bank in Shanghai.


The branch offices and bank documents of Bank of America (Asia) Ltd will soon bear the logo and name of China Construction Bank Asia Ltd.

The two sides inked an agreement worth 9.71 billion Hong Kong dollars in August, and the deal was later approved by Chinese and overseas banking authorities and by CCB shareholders.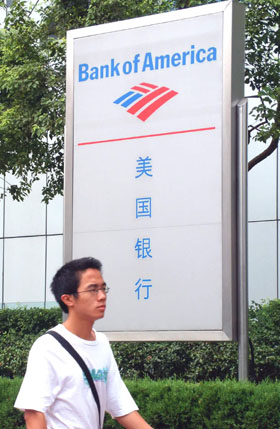 A man passes by a billboard of the Bank of America in Shanghai in this file photo. [newsphoto]


The bank did not disclose the changes in the board of directors of the new bank.
A joint group was set up after the acquisition to facilitate work during the interim period including an examination of corporate policy and an analysis of operating risk.
Bank of America agreed to provide support services in risk control, operating management and the IT sector to the new bank for 18 months after the transaction is completed.
CCB's business in Hong Kong will more than double with the acquisition, and total customer loans will jump from 16th to 9th highest in the Hong Kong banking industry.
The deal will help CCB expand its overseas presence and retail banking business by gaining access to local business channels and customers.
Bank of America (Asia) is a locally incorporated bank with a history dating back 90 years. Originally called the Bank of Canton, it is one of the longest-established banks in Hong Kong. The bank, which became part of BOA in 1992, has 17 banking centers in Hong Kong and Macao.
One of the best-performing banks in Hong Kong, BOA (Asia) reported an after-tax net profit of 537 million HK dollars (69.2 million U.S. dollars) in 2005.
CCB, China's third-largest commercial bank, listed on the Hong Kong Stock Exchange in October last year.
(For more biz stories, please visit Industry Updates)