The virtual world seems to be making inroads into reality, though there are signs that the government is fighting back.

In the latest wrinkle in the fabric separating reality from virtual reality, virtual money is being exchanged for real yuan on a booming scale. The practice is so widespread that it has raised concerns that virtual money could challenge the renminbi's status as the only legitimate currency in China.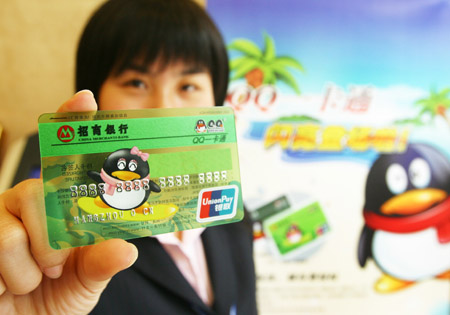 The QQ All-in-One Card is issued by Tencent and China Merchants Bank in Hangzhou, Zhejiang Province, on November 8, 2005. [newsphoto]
Last month, the country's top financial and Internet regulatory officials made repeated public statements about how they were weighing different proposals to manage the virtual economy.
Tencent, China's largest instant messaging service provider and the issuer of the virtual Q Coin, took the message to heart and filed a lawsuit against a website that exchanges the money in a bid to clamp down on the cross-over economy.
The company, which is listed on the Hong Kong Stock Exchange (SEHK 700), has not been affected by the situation, and its stock price remains steady.
Still, analysts said the involvement of top financial regulators would only spur the development of virtual money.
The possibility of regulatory action was first raised by Li Chao, spokesman for the People's Bank of China (PBOC), on November 3. He said at a working conference in Southwest China's Chongqing Municipality that virtual money had become a cause for concern and that the PBOC would draft a regulation covering virtual transactions next year.
A week later, Xie Zhong, deputy director of the PBOC's Payment System Department, said the central bank was drawing up regulations, but did not reveal details.

(For more biz stories, please visit Industry Updates)