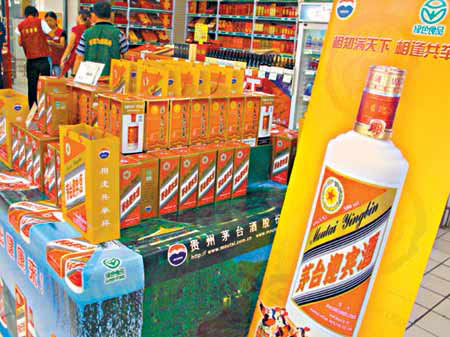 Classic Chinese liquor Maotai is sold at a supermarket in Shanghai. The liquor has more than 100 years of venerable history. [China Daily]


During his first visit to China in 1972, former US President Richard Nixon received two pandas from the Chinese Government as a sign of friendship a gesture widely appreciated in the United States.
What's less known is that he also took home some milk candy as a special gift from then Premier Zhou Enlai.
White Rabbit milk candy is even today a household name in China the story goes that it was Zhou's favourite snack when he worked late at night.
And it was also the secret love weapon of world champion weightlifter Zhang Guozheng, who moved his girlfriend with 20 kilograms of the candy.
White Rabbit is one of many long-standing and famous Chinese brands tied to social development and key historical events.
Yesterday, the Ministry of Commerce gave the designation of "time-honoured brand" to 430 brands around China. According to selection criteria, these brands must have been in existence before 1956 and highly popular among customers.
Worldwide, China-made textiles and home appliances enjoy great popularity and contribute greatly to the country's trade surplus because of their low price and good quality.
At home, however, old brands are struggling to gain a foothold in the domestic market, where competition from multinational giants is intensifying.
These brands have experienced hardships during their long history. After being established by a family or an individual hundreds of years earlier, most of the enterprises became State-owned in the 1950s. After decades under the planned economy, they've started to face fierce competition under the market economy.
Fang Shuying, chairwoman and general manager of Tianjin Laomeihua shoe shop, said a heritage brand is more than a product; it represents the culture of China and has deep traditional roots.
Set up in 1911, her shop first became well-known for its specially made shoes for the bound feet of Chinese women living in the era before the People's Republic of China was founded in 1949. Back then, the saying "3-inch golden lotus" described the ideal foot of Chinese women.

(For more biz stories, please visit Industry Updates)