U.S. investment bank Goldman Sachs is expected to report a windfall multibillion dollar fourth-quarter gain from its stake in China's largest lender, the Industrial and Commercial Bank of China, people familiar with the situation said on Monday.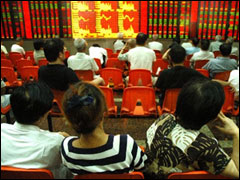 Chinese stock investors watch the stock ticker at a local bourse during an ordinary trading session in this undated photo. China's stock markets have rebounded since last year and ICBC's dual float on the bourses in Hong Kong and Shanghai has become a long-awaited buying spree ahead for global investors after a wave of successful IPOs of other Chinese major state-owned banks. [baidu.com]
Goldman, together with German insurer Allianz and American Express in April together bought a 8.45 percent stake in ICBC for US$3.8 billion. Based on the projected range of ICBC's initial public offering, which was launched earlier Monday in Hong Kong, those shares would be worth as much as US$9.5 billion.
The New York-based investment bank alone would see the market value of its investment zoom to about US$6.5 billion, up US$3.9 billion from its third-quarter carrying cost of US$2.61 billion. Goldman Sachs declined to comment.
"This has the potential to produce some pretty nice investment gains. I don't think that's a surprise, though it's not specifically reflected in their numbers," said Sandler O'Neill & Partners brokerage analyst Jeff Harte.
Allianz and American Express Co., meanwhile, stand to gain as much as US$1.79 billion from their combined US$1.25 billion investment.
To be sure, accounting rules will force Goldman to trim that estimated gain downward to reflect the lack of liquidity in these shares, a two-year lockup period and other factors, sources said.
As part of its investment, Goldman agreed not to sell any ICBC shares until April 2009, though it has transferred $1.65 billion to Goldman managed investment funds as of Aug. 25, according to its fiscal third-quarter financial statement.
Even so, Goldman's net income will get a substantial boost in the fourth quarter, when the firm is expected to report net income of $2.13 billion, according analysts surveyed by Reuters Estimates.
But such a large investment will add volatility to Goldman earnings in subsequent as ICBC shares trade, similar to the impact of Goldman's long-standing investment in Tokyo-based Sumitomo Mitsui Financial Group.
ICBC is offering 35.4 billion shares, or 10.8 percent of its expanded capital, at HK$2.56 to HK$3.07 each in Hong Kong.
ICBC is selling 33.62 billion shares to institutional investors, who were able to start placing orders on Monday. The bank's Hong Kong book was three times oversubscribed after the first day for what could be a record $19 billion share sale.
The bank's shares are expected to debut on Oct. 27. If ICBC exercises a 15 percent overallotment option, the size of its deal would swell to US$21.9 billion, surpassing the record US$18.4 billion raised in 1998 by Japan's NTT Mobile Communications.