Wal-Mart offers talks on union formation
By Fu Jing (China Daily)
Updated: 2006-08-10 08:47
The world's leading retailer, Wal-Mart, has offered to engage China's top union federation in discussions about the formation of unions among its employees.

The gesture towards rapprochement from Wal-Mart China, came yesterday after five trade unions were set up in its stores in Fujian, Jiangsu and Guangdong provinces in the previous 10 days.

"We have sent a letter to request a talk with the All-China Federation of Trade Unions (ACFTU) to seek possible ways to fulfil this commitment," Dong Yuguo, senior press manager, told China Daily from Wal-Mart's headquarters in Shenzhen, Guandong Province, where three stores set up trade unions this month.

In a written statement, the retailer said it was working with the federation and local union organizations to establish an "effective and harmonious" way to establish grassroots unions among the 30,000 employees in Wal-Mart's 60 China stores.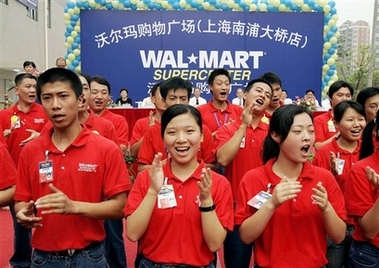 Workers perform the warm-up dance during the opening ceremony of the newly opened Wal-Mart store in Shanghai in this July 28, 2005 file photo. Wal-Mart Stores Inc said Thursday it has agreed to cooperate with China's top union federation in creating unions at its 60 Chinese outlets. [AP]
The ACFTU has been campaigning for two years for the formation of unions at all 60 Wal-Marts in China, alleging that the company had blocked its efforts.

(For more biz stories, please visit Industry Updates)