Direct coal liquification project under construction in Erdos
By Ma Zhiping (chinadaily.com.cn)
Updated: 2006-08-03 13:50
Construction of China's first production line of direct coal liquifying project is entering its final stage, with all the main facilities and materials being ready for installation, said sources with the China's Shenhua Group, China's largest coal production and trading company, the developer of the national coal liquifying project.
The direct coal liquifying project, the first such industrial demonstration project in the world, was launched in 2004 by the Shenhua Group in Erdos, the Inner Mongolian Autonomous Region, which holds one sixth of China's coal resources.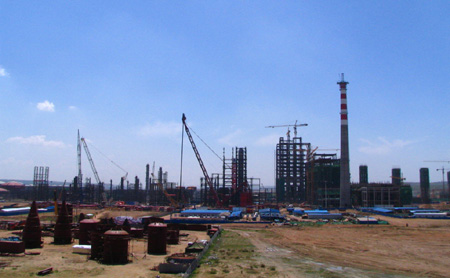 The project will make full use of the rich coal resources in Inner Mongolia and help ease China's energy shortage, according to Erdos city government officials.
The direct coal liquification project will apply technologies independently developed by Chinese scientists. The main manufacturing process will include coal liquefying, purifying and processing of the liquified oil products and hydrogen production.

(For more biz stories, please visit Industry Updates)