Does the Chinese name for Google "Guge" befit the world's No. 1 search engine?
Some Google fans don't think it does. They have created an online petition called www.noguge.com to get the search engine to change its Chinese name.

Reasons cited for the petition are the name is "weird," "unsophisticated" and could damage the "cool" image of Google in China.

"Google, we love you, but we don't love Guge," said the Website, which received more than 2,600 signatures yesterday. "The name Guge is not satisfactory and we are disappointed. Do you hear us, Google?"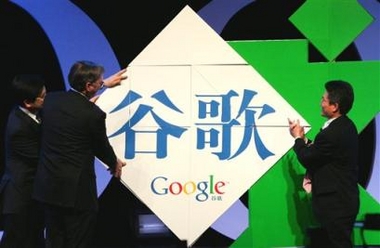 Eric Schmidt, CEO of Google (2nd L), Kaifu Lee, Vice President of Google China (L), and Johnny Chou, President of Google China (R), unveil the new Chinese-language Google brand name at a press conference in Beijing Wednersday April 12, 2006. The new brand name 'Gu Ge' or 'Valley Song,' draws on Chinese rural traditions to describe a fruitful and rewarding experience, according to Google. [AP Photo]


Google, second to its Chinese rival Baidu.com, has been receiving flak for its new Chinese name since its elaborate christening ceremony in Beijing last week, graced by Google's global chief Eric Schmidt and a cohort of the company's senior management.

Domestic media were quick to pounce on the "harvesting song," saying the Chinese name reflects the US-based company's lack of understanding of the local psyche.

Guge in Chinese also means a valley song or a grain song. The name Google came from the word "Googol," which denotes the number 1 followed by 100 zeros.

"Google gives us an individualistic feel, yet Guge sounds traditional and rural ... in other words, it's outdated," said a blogger on another Website.

Industry analysts also told Shanghai Daily that Google could have picked a better name.

"A valley song has got nothing to do with Google's original meaning," Tom Doctoroff, Greater China CEO of ad agency JWT, said yesterday. "You make mistakes like this when you don't know your consumers. It's a huge mistake."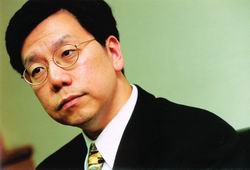 Kaifu Lee, Vice President of Google China

But Google China is unfazed by the commotion.

"Guge is not a substitute for Google, rather, it will complement Google," the company said in a statement in response to queries from Shanghai Daily.

"Names such as Gougou (dog dog) are unable to fulfill the responsibilities of a corporate, brand or product name, nor do they reflect fully our goals and mission," it said in reference to the more literal suggestions from net users.

Google has been put under the microscope for its efforts to woo Internet users in China, which included introducing a censored version of its service in compliance with Chinese laws.

A survey conducted last year by the China Internet Network Information Company revealed that more than half of respondents could not correctly spell "Google," a glitch which the company hopes to remedy with the new Chinese name.

The statement also said the name aims to cater to users unfamiliar with English usage of the search engine. "It would be unfair to ignore their needs," it said.





(For more biz stories, please visit Industry Updates)