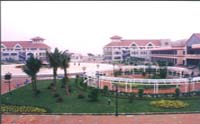 Nansha Economic and Technological Development Zone was approved as state-level deveopment zone on May 12, 1993. The zone now has a population of 70,000.

Geographical Location
Situated in the heart of the Pearl River Delta and in close proximity to Hong Kong and Macao, the Nansha ETDZ is in the southeast of Panyu City, Guangdong Province and on the west bank of Humen Watercourse in the estuary of the Pearl River. The Zone is only 38 nautical miles from Hong Kong, 41 nautical miles from Macao and 54 kilometers to Guangzhou by land, bordering the cities of Zhongshan and Shunde on the west and facing across the sea the town of Humen in Dongguan City to the east.
Climate
In a mild subtropical marine climate, the zone has an annual rainfall of 1647.5 milimeters and an average temperature of 21.9 degrees centigrade.
Communication and Transportation
In a radius of 60 km with Nansha at the center are 7 airports, a network of over 200 km of expressway and about 27,000 km of standard roads, and 14 cities and 420 towns.
Road
A car ferry wharf, spanning the east and the west part of the Pearl River estuary, has been completed and come into operation. Humen Bridge, which intersects the Guangzhou-Shenzhen-Zhujiang expressway (still under construction) and bestrides the estuary, was completed in 1997 to carry part of the traffic in the vicinity.
Port
Surrounded by the sea on three sides, Nansha is a good natural deepwater port with a coastline of 25.5 kilometers, part of which is a 7 kilometers long deepwater coastline on the west of Humen watercourse of the Pearl River estuary. The depth ranges from 9 to 15 meters with few whirling silt. Currently, there are two 10,000-tonnage and two 25,000-tonnage docks in operation as well as a passenger wharf.
Airport
It is an easy drive from Nansha to the Baiyun Airport in Guangzhou and the Huangtian Airport in Shenzhen, which are 54 and 70 kilometers away respectively.
Industrial Structure
Plastic, chemical, electronic, food processing and shipbuilding industries.
Development Planning
With the deepwater port as the center, Nansha is going to be built into an information and logistic center with rational layout and beautiful environment, highlighting the development of transportation, processing industry, processing and tertiary industry.
Administration Committee
Tel: 86-20-84688220
Fax: 86-20-84687763
Email: nansha@panyu.gd.cn
Website: www.nansha.gov.cn
(Source: Ministry of Commerce)
(For more biz stories, please visit Industry Updates)