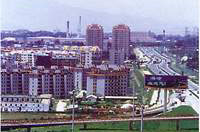 Xiamen Haicang Investment Zone was approved as state-level deveopment zone in May 1989. The zone now has a developed area of 31.8 square kilometers.

Geographical Location
Haicang is situated on the tip of the Xiamen-Zhangzhou-Quanzhou Triangular Area in South Fujian, and separated from the Xiamen Island by the sea. Backing up by vast hinterland, Haicang is just in between the two economically developed coastal areas of the Pearl River Delta and the Yangtze River Delta. As early as 300 years ago, Haicang was an important port in southern South Fujian for oversea trade. Haicang is 165 nautical miles to the west away of Kaohsiung and 137 nautical miles to the west of Taichung of Taiwan on the east, 287 nautical miles to the north of Hong Kong, and 564 nautical miles to the south of Shanghai. In 1989, Haicang was designated as an investment zone for Taiwanese businesses.
Climate
Haicang is in the sub-tropical marine monsoon climate zone. The average annual average temperature is 21 centigrade, with the lowest record temperature of 2 centigrade and the highest temperature of 38.5 centigrade. The average annual precipitation is 1143.5 millimeters.
Communication and Transportation
Landway
The railway and State the national Highway 319 passing through the Zone link it with the national road communication network. In addition, an 86-km-long highway, which was recently completed, together with and the trunk roads to and from main road in the city proper are also connect the Zone with the Fuzhou-Xiamen-Zhangzhou Expressway and the State Highway 324 outside the zone.
Harbor
Ranking among the top ten ports in China, Xiamen Port operates is open to navigation routes with over 60 ports in more than 40 countries and regions. Presently, Haicang Port presently has opened 9 ocean-going lines for container routes s to nearly 40 ports in Europe, the United States, Japan, Indonesia, Singapore, Kaohsiung of Taiwan, China, Hong Kong, China, Indonesia and Singapore and some European and American destinations, etc. In 2001, the 2001 cargo throughput registered reached 4.5 million 50 million tons, and the container throughput hit 270,000 TEUs.
Airport
Haicang is only 10 kilometres away from Xiamen Xiamen International Airport, which has opened more than 80 air routes to domestic and overseas destinations, including Singapore, Osaka, Bangkok, and Hong Kong, etc.
Bridge
The Haicang Bridge in operation links Haicang with the downtown of Xiamen and the proposed Haicang-Zhangzhou Sea-spanning Bridge will connect Haicang with Zhangzhou.
Human Resources
In Xiamen there are 120 scientific research institutes, 8 colleges and universities and colleges, and 12 polytechnic schools.
Industrial Structure
The industrial structure has basically shaped up focusing on such sectors as come into being mainstay of polyester, PET, PVC products, photo sensitive materials, structural electronics components, and power generation power. The petrochemical sector industry chain with the leading enterprises of highlights Xianglu PET and PTA, while coupled with the refined chemicals sector industry chain centers on pioneered by Kodak photosensitive materials has been formed manufacturing. Moreover, electronics, and electrical appliances equipment, machinery, and metallurgic products, new building materials, bio-pharmaceutical and other light industrial products have also started here industry have a considerable scale.
Investment Priorities
The government of Haicang Investment Zone encourages investment in high-tech and capital-intensive industries, with priorities the emphasis on petrochemicals, electronics, machinery, refined chemicals, new building materials, and bio-pharmaceuticals industry.
Administration Committee
Tel: 86-592-6052703
Fax: 86-592-6051056
Email: bgs@haicang.com
Website: http://www.haicang.com/eng/index.html
(Source: Ministry of Commerce)
(For more biz stories, please visit Industry Updates)