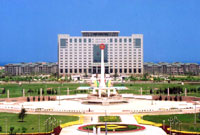 Yantai Economic and Technological Development Zone is one of the earliest approved state level economic development zones in China. It now has a developed area of 16 square kilometers and a population of 115,000.

Geographic Location
The Yantai Economic & Technological Development Area (YEDA) lies on the tip of the Shandong Peninsula facing the Huanghai Sea. Beijing and Dalian are to its north across the sea, and to its south there are Shanghai and Qingdao. To the east there are South Korea and Japan. It adjoins to downtown Yantai, merely 6 kilometers away from Yantai Port, 6 kilometers away from Yantai Railway Station, and a 30-minute drive to Yantai International Airport.
Climate
The average annual temperature is 12.5 centigrade, with the lowest record at -13.1 centigrade and the highest at 38 centigrade. The average annual rainfall is 737 millimeters. Because of its location, Yantai has rich tourist resources.
Communication and Transportation
Road
No. 206 State Highway from Beijing to Yantai and the freeway from Tongjiang, Heilongjiang Province, to Sanya, of Hainan Province, pass through the Development Area.
Railway
Yantai Railway Station reaches out onto the national railway network through Jiaozhou-Ji'nan and Lancun-Yantai Railways. And under construction now are the Dezhou-Yantai Railway along the Bohai Sea coast, and the Yantai-Dalian ferry railway.
Harbor
Yantai Port is one of the top 10 hub ports of China. There are 15 100,000-ton berths in the port, directly accessing to more than 100 ports all over the world.
Airport
Yantai International Airport operates 35 international and domestic air routes with 127 flights per week.
Human Resources
In Yantai there are 7 universities and colleges, and 91 secondary technical schools.
Industrial Structure
The core industries in YEDA include machinery, equipment, automobiles and parts, electronics and information, artificial fibers and textiles, food processing, refined chemicals, and bio-pharmaceutics. YEDA has become China's biggest manufacture base of vehicle parts and accessories, of diggers and excavators, of chips and boards, of polyurethane fibers, and of third-generation mobile telecommunication chips and accessories.
Investment Priorities
Priority will be given to industrial and manufacturing projects and proposals, to foreign investments, to commodity export efforts, and to high-tech programs. Highlights shall be passenger cars, machinery, electronics and information, refined chemicals, medicine and medical products, bioengineering, textiles and garments, food processing, light industries, and new building materials.
Meanwhile, foreign investment in tertiary or service sectors will be encouraged. In short, large projects, transnational partnerships, product development and manufacturing shall enjoy priority in the zone.
Administration Committee
Tel: 86-535-6396111
Fax: 86-535-6396999
Email: yedaipa@public.ytptt.sd.cn
Website: http://www.yantaiinvest.gov.cn/htm_eng/home.htm
(Source: Ministry of Commerce)
(For more biz stories, please visit Industry Updates)