The CEO of the world's most frequently used search engine said the next goal is to have a data centre in China in order to serve local customers more quickly. It will then work with local libraries to bring more information from books to the Internet.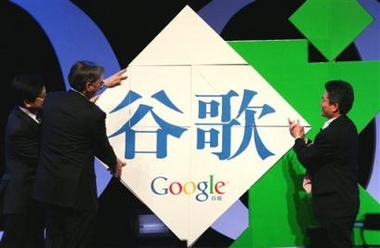 Eric Schmidt, CEO of Google, second left, Kaifu Lee, Vice President of Google China, left, and Johnny Chou, President of Google China, right, unveil the new Chinese-language Google brand name at a press conference in Beijing Wednersday April 12, 2006. The new brand name 'Gu Ge' or 'Valley Song,' draws on Chinese rural traditions to describe a fruitful and rewarding experience, according to Google. [AP Photo]
"Our business in China is not about revenue, but about serving end users," said Schmidt in an interview.
Google's major local competitor Baidu, which is listed on the NASDAQ with Google as a small investor, also got its name from a traditional Chinese poem.
The idea behind using a Chinese name helps the company reach more Chinese users, many of whom do not know English and have difficulties pronouncing the name, which prevents them from knowing and using the search engine.
According to the professional Internet research firm Shanghai iResearch, revenue of the Web search market in 2005 was 1.04 billion yuan (US$129 million), 82 per cent higher than in 2004.
Web search engine Yahoo! led the market with a combination of search services on three websites operating in China. Baidu ranked second with 26 per cent of the pie and Google was the third with 14 per cent.
Schmidt acknowledged it was "our mistake" not to come to China earlier, which has given Baidu a chance to surge ahead in the market.
All major research houses focusing on the Chinese market rank Baidu the largest single search engine in China.
A March survey by China Popular Computer Weekly involving 120,000 users shows that more than 60 per cent of Internet users use Baidu, while 28 per cent choose Google.
Schmidt said that although some other Internet giants from the United States, such as Yahoo!, AOL, Amazon and eBay, have difficulties exporting their dominance to China because of tough local competition and slow progress to meet local demands, it may not be a problem for his business.
"We are often not the first in the market, but we often grow more quickly," he said.
(China Daily 04/13/2006 page11)