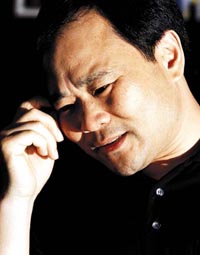 Li Shufu
Age: 43
Birthplace: Hangzhou, Zhejiang
Company: Geely Group
Head office: Taizhou, Zhejiang
Main industry: Automobiles and motorcycles
Li Shufu is chairman of Geely Automobile Holding Co Ltd, a privately owned carmaker in China. The company, whose name means "auspicious benefit" in Chinese, began making cars in 1998. The carmaker, which depends on its own development, produces the low-cost Geely Haoqing, Merrie, Ulion, Meirenbao, Maple cars, Beauty Leopard and China Dragon.
Li, listed by Forbes as one of China's richest people, said Geely aims to boost output to 2 million cars a year by 2015 from 100,000 units in 2004. Of that, 1.4 million cars are expected to be exported or manufactured overseas by then, Geely said.
In China's business circle, Li Shufu is a controversial person. His daring thoughts, innovative ideas and unyielding personality astonish many people who are comfortable with conventional conformity.
When he began to develop motorcycles, some thought he was destined to fail, but he succeeded.
When he withdrew his sponsorship of a Guangzhou soccer team because of shady referees, he faced pressure from many sides.
When he perservered with his dream of manufacturing cars, people regarded him as mad. After all, a private company had never before entered the industry. Nevertheless, Li broke into the industry. Although China's entrance into the WTO benefited Li, no one can deny that his success stemmed from his creativity and determination.
From refrigerators to motorcycles
Born into a farmer's family in Taizhou City, Zhejiang Province, Li, like many others at that time, did not go to university. Rather, he started his business in 1984 with 2,000 yuan given by his father.
He decided to make refrigeration components. The huge demand for the components lured many investors, but most of them dropped out due to technical problems. However Li did not retreat. He turned to experts and big factories for core technology and set up his own plant. His products sold nationwide and set him on his path to success. He was 21 at the time.
In 1989, the State began to regulate the refrigerator industry. Only designated factories were allowed to produce refrigerators and related components. As a result, Li, lacking the necessary licenses, was forced to close his plant.
Later, he was shocked to see plants like Kelon and Midea become so successful. He learned an important lesson -- if you give up easily, you will never succeed.
In 1994, expensive imported motorcycles became very popular in China. Li, noting the popularity, decided to produce motorcycles. However, according to State policies, enterprises must get approval from the Ministry of Machine-Building Industry (MMBI) before they can produce motorcycles. The chances of a small private company getting approval were extremely slim.
None the less, Li went to MMBI seeking approval. He didn't even make it past the front gate.
His next step was to go to Hangzhou and bail out a nearly bankrupt State-owned motorcycle factory. Turning the factory around, Li oversaw the successful development of a four-stroke engine for motorcycles. Before long the Li's motorcycles were being sold in 22 countries, including the United States, Germany and Italy.
In three years, the sales of Geely brand motorcycles ranked first among the same type of motorcycles in China. Geely itself became the fourth largest private company.
Li decided he was ready to manufacture cars.
The first Geely car
From his company, Li found three engineers who formerly worked for automobile factories. He called them to his office and introduced them to his idea of making cars. Li and the three engineers became Greely's core research and development force.
After visiting automobile factories and colleges, Li came up with an even bolder idea. Instead of simply manufacturing cars, he wanted to design his own brand.
The finished cars, made with a toughened blend of glass, looked very much like a Benz 320. But there was a major problem. The toughened glass distorted very easily. The failure caused Li rearrange his plans. To ensure the quality of his cars, he would have to make use of matured techniques, platforms, technology and parts.
But not everyone took his dream seriously. Once Li went to ask the help of a parts expert working for a Shanghai company. After hearing Li's story, the expert turned his back on Li and left. Li waited for some time, but the expert did not return to offer advice.
At last, the China FAW Group, the number one automobile manufacturer in China, agreed to support Geely's research and development. But there were problems concerning the production rights.
Li once again need approval from the MMBI. His business would need to be approved for each type of automobile it wanted to produce. Permits for car production were strictly controlled and therefore hard to get.
In 1997, a friend of Li's told him of a small automobile plant in Deyang County of Sichuan, that produced compact cars. "That is it. Let's give it a try," was Li's response.
He set up a joint venture with the Sichuan plant. He intended to produce Benz cars but was rejected. At this point Li didn't have the necessary licenses to produce any kind of cars. He designed several compact cars based on a popular designs by Xiali. At long last, Li received MMBI approval to produce automobiles.
One year later, Li acquired all the shares of the Sichuan Plant and built his first Geely plant in Linhai City, Zhejiang Province. In August 1998, the Haoqing brand compact cars were successfully produced. A year later, he set up the second Geely automobile plant in Ningbo Economic Development Area.
From struggle to success
When Li first became involved in the automobile industry, few of his friends supported him. Government officials and experts said: You can not afford an automobile factory; if you could affford one you would not find a market for the your cars; the automobile industry is too competitive for you to succeed.
Li turned a deaf ear to those arguments and stood his ground. He was sure that China's consumers needed economic cars which big manufactories were reluctant to produce because of the narrow profit margin.
The so-called big manufactories maintained a large production scale but their high prices curtailed sales. Therefore they never realized a real scale economy. They were inefficient due to high production costs and relatively limited sales volume.
As a private company, Geely chose to begin in proper scale according to projected sales. The initial production capacity was set to 25 thousand, which reduced their preliminary investments and related expenses.
"Making cars is not as mysterious as people think. A car is merely four wheels, a steering wheel and an engine. The level of technology used in manufacturing cars is very high. It seemed to me that I just needed to buy the technology and the parts, and pay for engineers," said Li.
In truth, it was not quite that easy. The government had never before permitted a private company to produce cars. Therefore Geely could not promote new products or even upgrade their compact cars. Furthermore, consumers did not trust their prices which were considerably lower than prices offered by State-owned or Sino-foreign companies.
Li had to go to various authorities to ask for permits so that his company would survive. He once spoke to an official with great sincerity saying, "Please let me try. It is my dream. I'll pay for everything and take all the risks. Just give me an opportunity to win or lose on my own."
On October 30, 2001, 10 days before China entered the WTO, the State Economic and Trade Cooperation Committee issued an announcement recognizing a type of car Geely made. Geely became one of the national production bases for cars.
Moreover, the reduction in the prices of compact cars made by State-owned enterprises stimulated the market for Geely's cars. By the end of 2001, Geely witnessed a dramatic increase in sales. The upward trend continues into 2002.
(For more biz stories, please visit Industry Updates)