The long-awaited terrestrial digital TV broadcasting standard is expected to come out this year and China will also draft standards on mobile (phone) broadcasting, Internet protocol TV (IPTV) and satellite broadcasting.
So said a senior official with the State Administration of Radio, Film and Television (SARFT) yesterday.
Zhang Haitao, vice-minister of SARFT, said a draft of the digital TV terrestrial broadcasting standard had been submitted to the National Radio, Film and Television Standardization Commission. Afterwards, it will go to the Standardization Administration of China to become a national standard.
Zhang was speaking at the opening of the China Cable and Broadcasting Exhibition (CCBN) 2006. He expected the standard to be issued this year.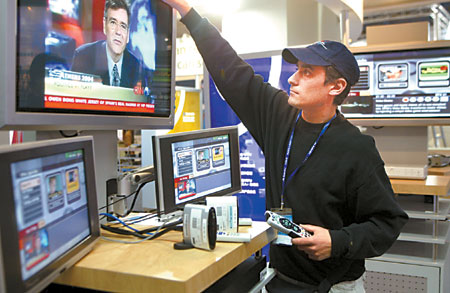 Facts about digital broadcasting
Last year the number of households with access to digital broadcasting more than quadrupled, to 4.13 million.
A total of 1.39 million households were subscribers and contributed 316 million yuan (US$39 million) to operators last year.
As many as 49 cities and regions have participated in trials for digital broadcasting.

"Digital TV is our biggest opportunity and the most important task, so every party involved should work hard," added Zhang.

Digital TV broadcasting can be conducted by satellite, cable and terrestrial television, but most Chinese TV viewers watch TV programmes using terrestrial broadcasting. Therefore, the terrestrial standard is believed to be the most important one.

China has decided to develop its own standard, paying reference to the European standard but with Chinese features to meet local demands.

With an aggressive push from SARFT and financial help from the Ministry of Finance and the State Administration of Taxation, the deployment of digital TV in China has made significant progress.

The number of households with digital broadcasting facilities rose from one million in 2004 to 4.13 million in 2005.

Digitalization of TV programmes and broadcasting increases the efficiency of operators and provides better quality for viewers.

It also allows operators to provide value-added services such as Internet surfing to subscribers.

Zhang urged regional administrations and TV and radio operators to endorse new technology as it will benefit the whole industry.

Qingdao, a coastal city in East China's Shandong Province, uses a lot of digital technology; it saw revenue from broadcasting rise from 100 million yuan (US$12 million) in 2003 to 226 million yuan (US$28 million) in 2005.

In southern China's Shenzhen city, operators' revenue reached 400 million yuan (US$48 million) and revenue from subscriptions to Internet-based services exceeded traditional broadcasting subscription fees.

Zhang said SARFT will also encourage operators to start trials of new services such as mobile broadcasting, IPTV, and satellite broadcasting.

"Mobile broadcasting should be a focus of our work in the next period as it will change our habits of watching TV at home," said Zhang.

(China Daily 03/21/2006 page9)