Yang Yuanqing
(chinadaily.com.cn)
Updated: 2006-03-14 09:18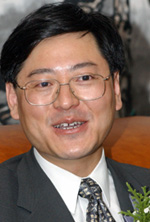 Age: 42
Birthday: November 12, 1964
Company: Lenovo Group Ltd.
Head Office: New York
Industry: computer maker
Yang Yuanqing is chairman of the board of Lenovo Group Limited. Prior to assuming his current position, he was the president and chief executive officer of Lenovo. Mr. Yang joined Lenovo in 1989 and became CEO in 2001. Under his leadership, Lenovo has been China's best-selling PC brand since 1997. In 1999, Lenovo ranked as first in PC sales in Asia-Pacific (excluding Japan) and has maintained this position ever since.
Mr. Yang also played a key role in Lenovo's transformation into a truly global company, leading Lenovo to become the International Olympic Committee's worldwide partner in March 2004. Mr. Yang was also responsible for spearheading Lenovo's landmark acquisition of IBM's PC business in May 2005, fulfilling the company's internationalization strategy and making Lenovo the third-largest PC manufacturer worldwide.
Mr. Yang has been named by BusinessWeek magazine as one of the "Stars of Asia," and has been selected by the Chinese media as one of China's "Ten Star Entrepreneurs" and "Ten Most Valuable Managers." He was also named by CCTV as a "Man of the Year" in 2004. Mr. Yang is also a member of the National Youth Association Committee, director of China's Entrepreneurs' Association, a guest professor at the University of Science and Technology of China, and a member of the New York Stock Exchange's International Advisory Committee.
Yang Yuanqing is the reason China's computer industry is thriving today. So it's hard to believe he wanted to quit his job back in 1991 and head to a U.S. graduate school. That was popular among bright, young Chinese at the time. But when he offered his resignation at Legend Holdings, then a small computer company, the boss said no. Instead, he offered the whiz kid a new job as a sales manager. Yang accepted and has never looked back.
Yang Yuanqing has come a long way since he first joined Legend Holdings (LGHLY ) 12 years ago as a salesperson after he received a master degree in China Science & Technology University in 1988.
(For more biz stories, please visit Industry Updates)