Xie Qihua: Made of Steel
(Beijing Review)
Updated: 2006-01-07 09:56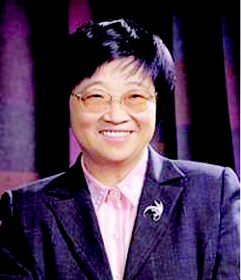 Xie Qihua, holding the reins to China's biggest steel manufacturer, is optimistic about the metal's future.
Xie Qihua has one strict rule: No interviews about her personal life. Apart from this she is happy to answer any questions about Baosteel Group and the steel industry as a whole.
The woman who manages the world's No.6 steel group with a 20-million-ton yearly output has a gentle simplicity about her. But don't let external appearances fool you; she's not known as the "iron lady" for nothing. Baoshan Iron and Steel Co. Ltd. under Baosteel Group is a listed company credited as being a stabilizing factor in the Chinese capital market, something which is widely seen as being due to Xie's no nonsense attitude and inspirational influence.
Apart from Board Chairwoman of Shanghai Baosteel Group Corporation, Xie boasts a string of other titles that include Alternate Member of the 16th Central Committee of Communist Party of China, President of China Iron and Steel Association, "Top 100 Powerful Women in the World" and "Most Powerful Business Leader of China." It's clear that this dynamic woman's efforts in the business world are not going unnoticed.
On October 31, Forbes magazine published the list of "Top 50 Businesswomen in the World 2005." Xie Qihua and Ma Xuezheng, Chief Financial Officer of Lenovo Group Limited, broke into the top 10 rankings. As if to confirm her power status, Xie was simultaneously listed by the Wall Street Journal in their "Top 50 Businesswomen to Watch" rankings, an honor of significant prestige.
(For more biz stories, please visit Industry Updates)