Philadelphia Orchestra wraps up fruitful tour
Share - WeChat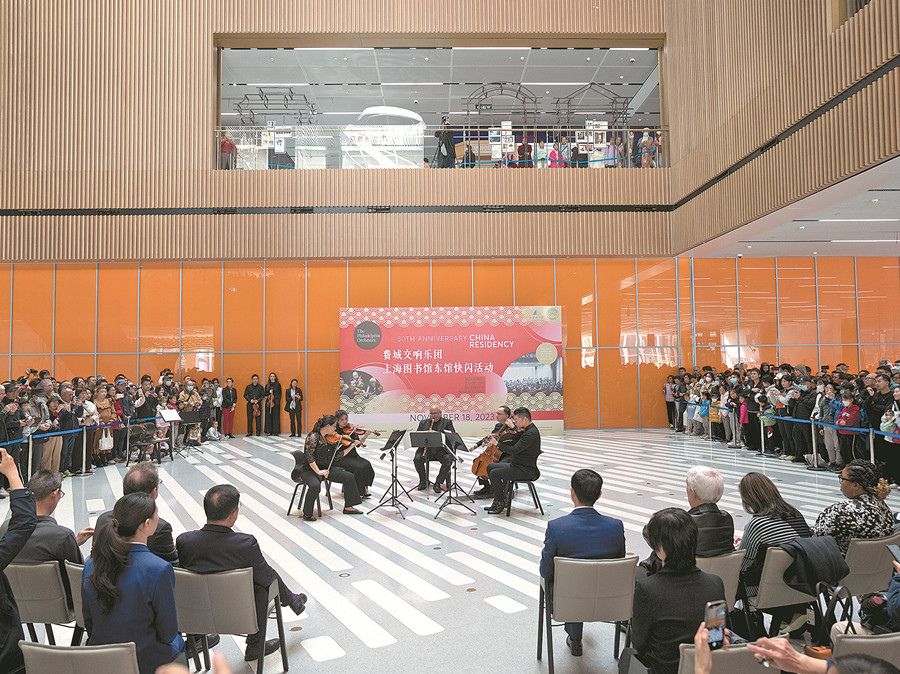 After completing a fruitful visit to China, members of the Philadelphia Orchestra boarded a flight back home to the United States from Shanghai on Sunday morning.
The Philadelphia Orchestra was the first orchestra from the US to visit China, in 1973, after the founding of the People's Republic of China in 1949. Since then, the orchestra has visited China 13 times.
During the latest visit, the orchestra first arrived in Beijing and performed at the National Centre for Performing Arts on Nov 10. It then went on to visit Tianjin and then Suzhou, Jiangsu province, before reaching Shanghai on Friday.
In Shanghai, the musicians from Philadelphia performed at Shanghai Tech University on Friday night. On Saturday, they performed with the students of China Welfare Institute Children's Palace, and then played at a chamber concert at the Shanghai Library East, where the members performed Mozart's Clarinet Quintet K. 581, two movements from Dohnanyi's Serenade in C major for String Trio, as well as Chinese composer Chen Yaoxing's Galloping Horse.
"It was very important for us to make sure we have a presence in China for the 50th anniversary of our first visit in 1973," Ryan Fleur, executive director of the Philadelphia Orchestra, told China Daily on Friday. "Music has the power to convey thoughts and ideas that words alone can't. That sentiment we take very seriously. It embodies the work and connections we have with the people of China. That drives every activity that we do, whether we are giving a lecture, coaching students, or performing alongside Chinese students and professional musicians."
Through the years, building deep, long-term strategic partnerships in China has been "absolutely key", Fleur said. "When we come back to China, we are picking up conversations. In this case, many conversations we were having in 2019 and now we are continuing them again."
Since he joined the Philadelphia Orchestra in 2012, Fleur has made 14 visits to China. Through the years he has observed the rapid development of China. Both he and Davyd Booth, a veteran violinist, who participated in the company's first visit to China in 1973, spoke about their impressions about the spectacular lighting of urban China, the high-speed train that takes people from Beijing to Shanghai in four-and-a-half hours, as well as the great development in China's classical music scene.
Since the orchestra's first visit in 1973, China has produced a number of internationally recognized musicians such as Wang Yuja, Lang Lang and Zhang Haochen. The number of orchestras has grown from "a handful" to more than 80, Fleur said.
Booth told China Daily: "The Philadelphia Orchestra travels all over the world, but there is nowhere else in the entire world that we have developed a close relationship as we have with China. I can't begin to tell you how thrilled and happy I am to think that we played a part in helping to strengthen the friendship between our two countries."
Through the past decades, Chinese orchestras have visited Philadelphia too, and US and Chinese musicians have often played side by side, which is a wonderful way to share and get to know people, Booth said. The 1973 concert was "like we planted a seed that has continued to grow and flourish, and is still flourishing wonderfully today".
Back in Philadelphia, the company presents an annual Chinese New Year Concert, during which a Chinese repertoire is presented, "to make sure that the Chinese culture is represented for our local Chinese American community", Fleur said.
Among the musicians of the Philadelphia Orchestra are now Chinese instrumentalists, such as Ni Haiye, the company's principal cellist, Booth noted with pride.
With the development of music education in China, the number of musicians from China "is only going to increase over the years", Fleur said.
Most Popular