An emotional journey
Share - WeChat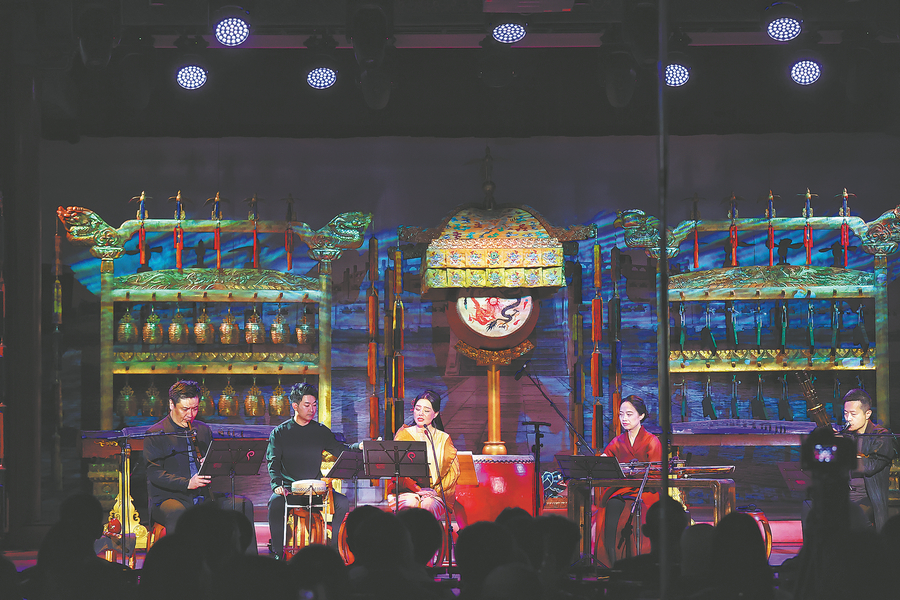 Gong Linna's latest album is inspired by an epic Han Dynasty poem, which recounts in music a heart-wrenching tale of exile and familial love that still resonates today, Chen Nan reports.
Gong Linna started singing at the age of 5 in her hometown, Guiyang, Guizhou province in Southwest China. The musically versatile youngster enrolled to study folk music at the Chinese Conservatory of Music in Beijing at 16. She held her first solo concert in 1999. In 2000, she won the Chinese National Singing Competition as the best female singer and became a popular figure at various galas.
Throughout her early career, the singer performed many Chinese folk songs, which are mostly high-pitched with cheerful style.
It was not until after she graduated, and met music scholars in Amsterdam, that she learned about qinge, and became interested in the art form, which is a combination of Chinese guqin and vocal music.
"I met Frank Kouwenhoven and Antoinet Schimmelpenninck, who were studying Chinese music, in Amsterdam. They asked me why I didn't sing qinge songs, and I realized that I had never really learned about the genre, though I had studied Chinese music for years," recalls Gong. "Later I found out that qinge requires singers to match the playing of the guqin, which is quiet, ethereal and distant, totally different from the way I sing Chinese folk songs. I was intrigued."
With a history of more than 3,000 years, guqin, a plucked seven-stringed instrument, represents China's foremost solo musical instrument tradition, and was added to the Representative List of the Intangible Cultural Heritage of Humanity by UNESCO in 2008.
Closely associated with guqin, qinge — with qin referring to guqin and ge meaning song — is an essential element of literati music.
After working with guqin player Lin Chen, and Wang Hua, a bamboo flute and xiao player, on her first qinge album, Xian'ge Qingyun (Classical Qin Songs), in 2009, Gong recently released her second qinge album, by NCPA Classical Music Channel.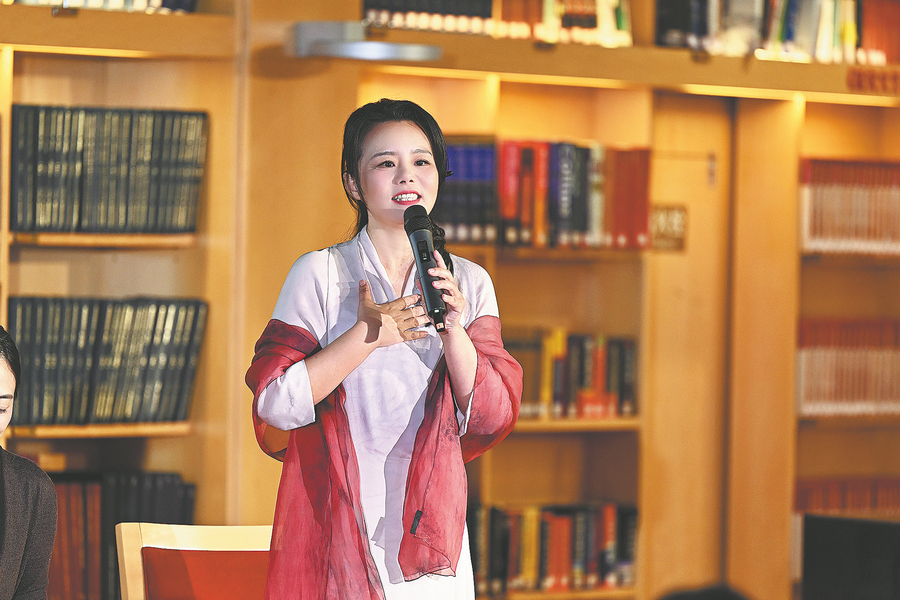 On Oct 4, Gong, and her musician friends, gave a concert, premiering the new album at the Divine Music Administration, which was first built in 1420, and is one of the five major structures at the Temple of Heaven, an imperial sacrificial altar. It was the highest ritual music academy for training and practicing imperial sacrificial music.
Unlike her first qinge album, which featured classic songs played on the guqin, such as Yuge Diao (Fisherman Words), Yangguan Sandie (Parting for Yangguan) and Qiufeng Ci (Autumn Breezes), this new album, Song of the Barbarian Reed-Whistle in Eighteen Stanzas, presents a guqin piece written by Cai Wenji, a female poet and composer from the Han Dynasty (206 BC-AD 220).
Divided into 18 parts, the guqin piece expresses the composer's emotion on her way back home 12 years after she was taken prisoner by the Xiongnu nomads, becoming a chieftain's wife and bearing two children.
On the album, which was recorded in Beijing in February, Gong worked with Lin and Wang again. She also invited more friends, sheng player Nie Yunlei and percussionist Li Shang, to play with her.
According to Lin, the new album is quite different from Gong's first qinge album, which sounded diverse and displayed the singer's ability to master different music styles. This recording is of an independent work of great length, consisting of 18 parts and which takes around 40 minutes to perform in its entirety.
"Song of the Barbarian Reed-Whistle in Eighteen Stanzas is rich in musical styles, incorporating elements of chanting and storytelling, making it highly dramatic," says Lin. "Throughout the entire piece, the singer shifts between the third-person perspective to narrate the miserable living conditions during wartime, and a first-person perspective to express the emotions of Cai Wenji herself, such as the suffering of being exiled far from her homeland, the excitement of returning home and the inner struggle and dilemma of parting with her beloved children."
Gong recalls that, when they recorded the first qinge album, the team spent a long time in Germany, where Gong lived with her husband, composer Robert Zollitsch. When they prepared for the new album, Gong invited Lin to live with her in the mountainous area of Yunnan province, where the musicians worked together on arranging the 18 parts.
"Without a conductor, we just improvised and figured out each part. For example, we used percussion to depict the scenes of war, and we used sheng to express power. Xiao and bamboo flute were used to create the feeling of ancient China," says Gong. "Song of the Barbarian Reed-Whistle in Eighteen Stanzas has been in my heart for years. During the pandemic, my family and I were separated for a long time, and it was during that time that I felt a deep connection with Cai Wenji, her sorrow over life's ups and downs and her love for her homeland."
"The recording is yet another valuable exploration in the culture of ancient Chinese melodies," says 78-year-old guqin master Wu Wenguang, a representative inheritor of the instrument and a senior professor at the China Conservatory of Music.
Though Gong was trained to perform Chinese folk songs, the singer never stops pushing boundaries. In 2009, when she released a lyricless song Tante, or Perturbed in English, composed by her German husband, she soon became an internet sensation. With her powerful voice, wide vocal range and dramatic facial expressions, the song drew rave reviews.
Along with her husband, Gong has long been exploring the realm of "new Chinese art music", which aims to preserve the essence of traditional Chinese folk music in new forms. The couple has adapted traditional Chinese poems into songs as well as making songs about the 24 Solar Terms, a traditional Chinese calendar that summarizes different seasonal phenomena.
This summer, Gong showcased her versatility as a veteran vocalist, seamlessly moving between pop and folk vocal techniques with her performance in Riding the Wind 2023, the fourth season of a reality show by Mango TV that aims to showcase women aged in their 30s to 50s.
Contact the writer at chennan@chinadaily.com.cn
Most Popular