'Lighthouse factories' illuminate way ahead for high-tech future
By WANG KEJU | China Daily | Updated: 2023-10-16 09:34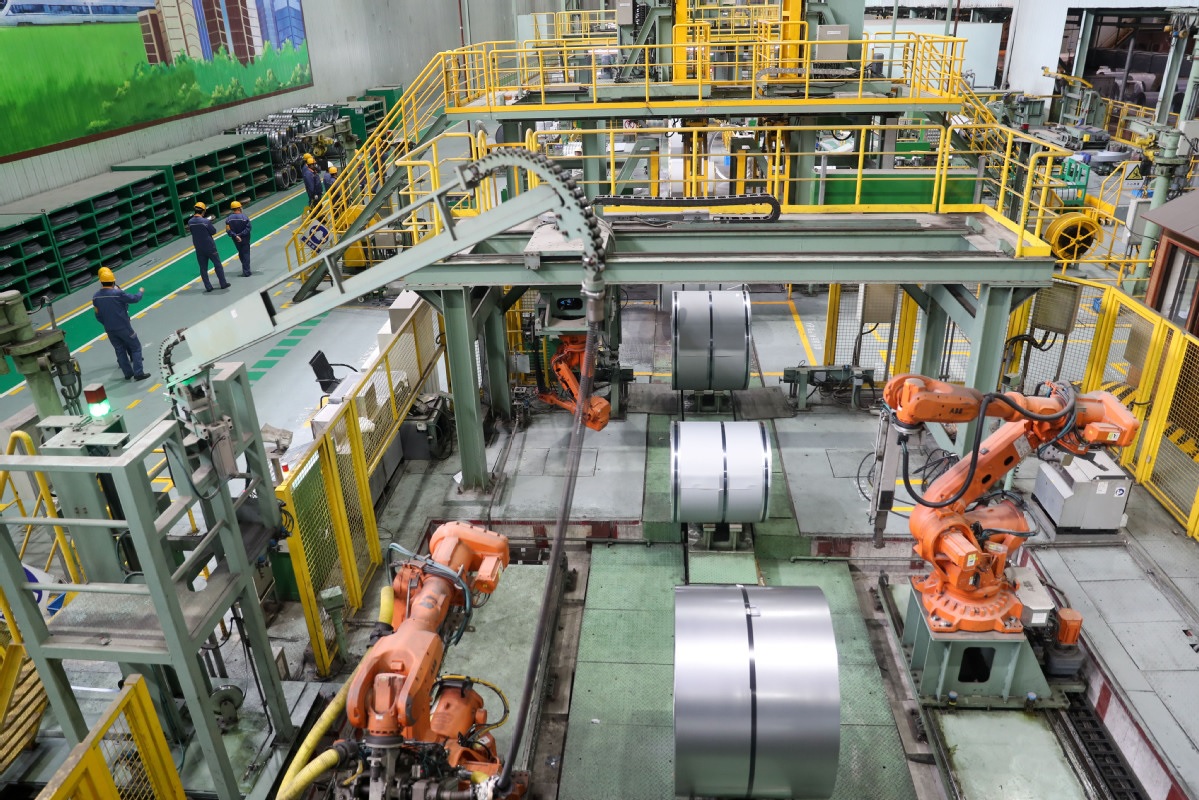 In the cold rolled steel workshop of Baosteel Co Ltd in Shanghai, dubbed the dark factory, the production line hums with activity despite the absence of lights, operating day and night to churn out high-quality steel products.
In the bustling kitchen appliances factory of the Midea Group in Foshan, Guangdong province, a mechanical rhythm fills the air. Every 16 seconds, like clockwork, a fully assembled dishwasher glides off the assembly line.
At the Lenovo Group's factory in Hefei, Anhui province, the swift assembly of laptops in 15 seconds is pushing the boundaries of what is possible in the manufacturing realm.
A fusion of artificial intelligence, robotics, the internet of things, blockchain, 3D printing, quantum computing and other technologies are underpinning this manufacturing prowess, said the executives of the companies.
These so-called "lighthouse factories" embody China's new era of industrialization. The country's relentless drive for industrial upgrades and intelligent manufacturing has made these factories a testament to the country's commitment to innovation, solidifying its position as a global leader in manufacturing, experts and executives said.
The World Economic Forum's Global Lighthouse Network is a community of manufacturers applying advanced technologies and showing leadership in using fourth industrial revolution technologies. China is home to 50 such lighthouse factories, the highest number of any country, and accounts for nearly one-third of the world's total.
Data clearly shows that while China lagged behind Western nations throughout the first three industrial revolutions, it is currently an equal, or even the leader, in several subsectors during the fourth one, said Song Huasheng, an economics professor at Zhejiang University.
Du Jiangshu, an engineer in Baosteel's digital intelligence department, said the company has revolutionized the operations of its steel plants through the application of digital technology, industrial robots and automated equipment. Workers can now carry out tasks remotely.
"Employees can sit in control rooms while enjoying a cup of coffee and effortlessly complete their tasks with just a few taps of their fingertips. It's similar to smart driving, where a driver doesn't need to steer the wheel, but can monitor the process from the side," Du said.
Baosteel's intelligent workshop has seen a 47 percent increase in labor efficiency compared with traditional factories. In addition, energy consumption has dropped by 9 percent, quality-related costs have decreased by 20 percent and the defect rate of products has been reduced by 10 percent, Du said.
The efforts to push forward new industrialization, as highlighted by digitalization and automation, are set to revolutionize traditional manufacturing practices and pave the way for a more efficient and intelligent future, said Huang Wentao, chief economist with China Securities.
According to data from the Ministry of Industry and Information Technology, by the end of 2022, China had built more than 2,100 high-level digital workshops and smart factories. The production efficiency of smart manufacturing demonstration factories had been boosted by 34.8 percent and carbon emissions reduced by 21.2 percent.
Building a modern industrial system and strengthening the resilience and security of China's supply and industrial chains are essential in the face of intensifying global rivalry, Huang added.
Qu Songtao, general manager of the intelligent manufacturing center at Lenovo's Hefei factory in Anhui province, said that more than 30 fourth industrial revolution automation and digitalization applications have been adopted. The center's entire production line can be swapped flexibly — like putting together Lego pieces — in response to changes in a customer's order.
Even with 8,000 customer orders being processed daily and over 80 percent personalized orders of less than five units each, the factory's labor productivity has increased by 45 percent, Qu said, adding that one out of every eight laptops sold worldwide was produced here.