Needed: Real doctor in the time of AI
Share - WeChat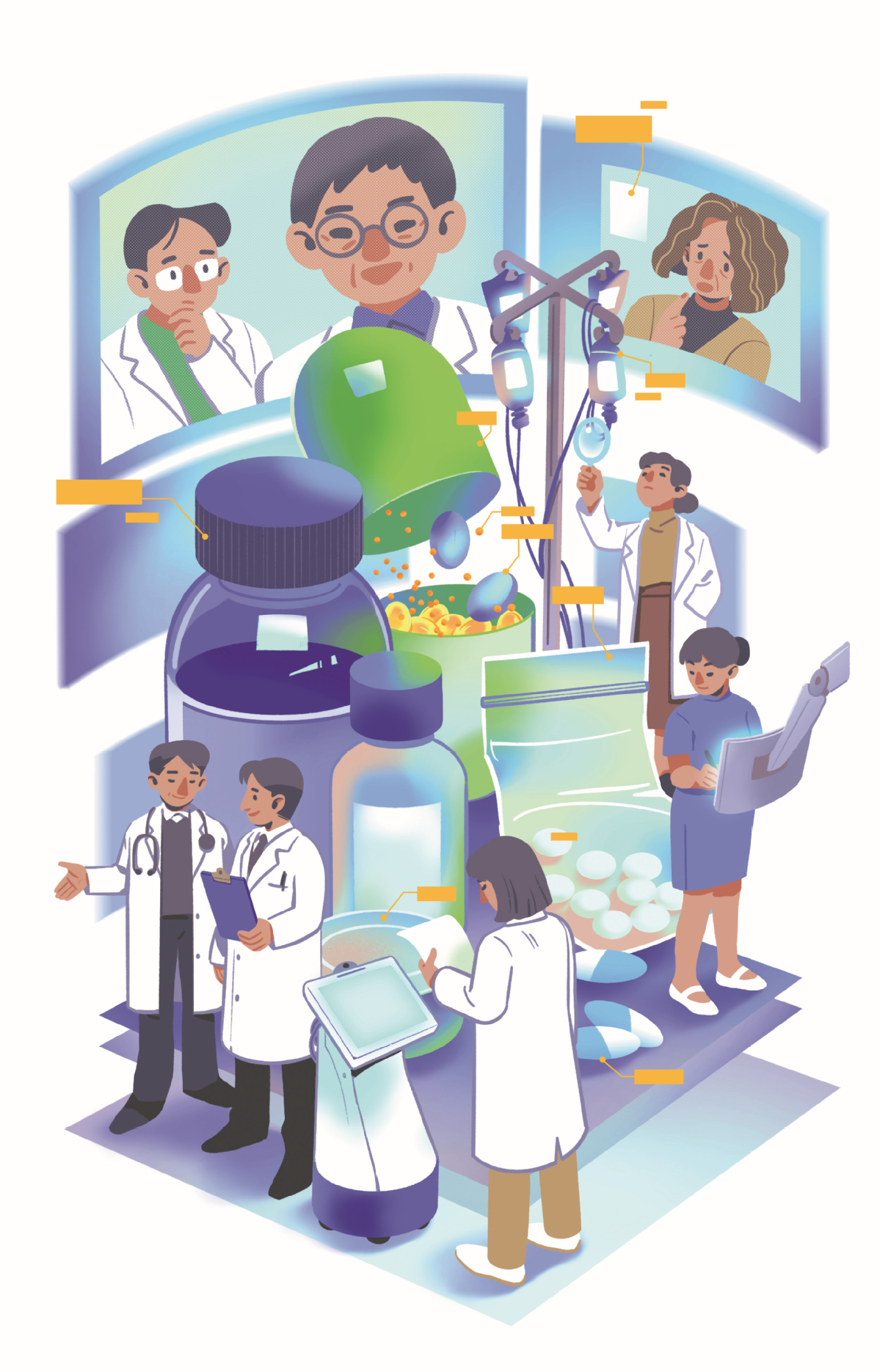 New regulations issued by Beijing health authorities for public opinion prohibit robots from prescribing medicines online to ensure safety of patients
The Beijing Municipal Health Commission recently introduced a regulation prohibiting the use of artificial intelligence or robots for issuing prescriptions during online medical consultations, in an attempt to help the industry develop in a healthy manner.
Given how crowded hospitals are, the convenience of online clinics has attracted many patients who have less serious health issues and are looking for a quick diagnosis and prescription. However, online consultation has thrown up problems on some occasions, such as an algorithm giving a wrong prescription, or a dissatisfying consultation with a doctor whose qualification seemed suspect.
Hu Jun, 30, a woman in Beijing, recently consulted an online clinic for a headache. The system required her to make use of a mobile phone application to seek advice. But when she consulted the online doctor, she said the responses she got on the app made her suspect it was not a human doctor but a robot at the other end. "I told the service I had a headache and it immediately asked me to take a certain medicine," Hu said. "It even posted a link from which to buy the medicine."
Hu didn't click on the link because she thought a doctor should normally ask more questions regarding the nature of the headache and enquire about other symptoms before prescribing a medicine.
Hu is not the first patient to be disappointed with the online consultation service.
However, it is not like every patient is dissatisfied with the service. There are some who have found online medical consultations to be convenient and helpful.
Dong Lili, mother of a 5-year-old girl, said she consulted an online clinic affiliated to a well-known private children's hospital and found the process smooth and useful.
Dong's daughter's legs were bent and she wondered if lack of proper nutrition was to blame. She wanted to take her daughter to a hospital, but could never find the time.
So she approached an online clinic, uploaded a photograph of her daughter's legs and described the situation. She was able to see the name, photograph, academic qualification, experience and workplace of the doctor she was consulting online.
"The doctor was patient and informed and gave me many suggestions," Dong said. The whole consultation process cost Dong 200 yuan ($27.42) and the platform doesn't sell medicines online.
Dong believes "online medical service will be the trend of the future" and she is okay with consulting a real doctor online, but she said she would be uncomfortable if she found out it was AI at the other end instead of a human doctor.
AI banned
The new regulation published by the Beijing Municipal Health Commission in August for collecting public opinion clearly bans the use of AI and non-medical professionals for online treatment services.
The regulation proposes that doctors must provide real-name authentication before providing online consultation to ensure the services are being provided by the individuals themselves. AI or any other software is not allowed to impersonate a doctor providing diagnosis and treatment services online.
The regulation also asks medical institutions to strengthen drug management. Prescriptions should be issued by the attending doctors themselves and can be effective only after a pharmacist approves them.
Prescription drugs should only be sold and consumed after a physician prescribes them. Providing them to patients before prescriptions are issued is strictly prohibited. The prescriptions should not be issued with a commercial purpose, the regulation stipulates.
Also, to secure patients' rights, the regulation says that records of online diagnosis and treatment should be managed according to the relevant rules governing outpatient electronic medical records - being kept for no less than 15 years. Text, image, audio and video records created during diagnosis and treatment must be kept for a minimum of three years.
Also, the regulation says, patients are not expected to go to an online clinic the first time they have some health issue. When they consult a doctor the first time, the doctor decides if the conditions are suitable for online consultation. Also, if an online patient develops a new symptom which the physician feels requires face-to-face consultation, he or she should immediately terminate the online treatment and guide the patients to consult a doctor offline.
Industrial development
In March last year, the National Health Commission and the National Administration of Traditional Chinese Medicine jointly issued regulations on supervising online diagnosis and treatment (trial).
That document already requires doctors undergo real-name authentication for online medical consultations and AI should have no role in such consultations.
In September last year, the country's market supervision authority published a management measure forbidding online clinics from selling prescription drugs. The new regulation only further strengthens Beijing's initiative.
It actively responds to the National Health Commission's requirement to bring online diagnosis and treatment into the purview of overall supervision of medical services. It provides more detailed regulations on registration and filing, department establishment, organizational systems, evaluation and assessment, supervision and feedback, as well as key issues such as verification of a doctor's identity and qualifications, drug management, medical record retention, platform data, privacy protection and information security.
Li Min, a senior partner at Han-Sheng Law Offices, said during an interview with caijing.com that although several cities had already issued local regulations before this, the release of the document by Beijing is a leading and proactive move for cities across the country. It recognizes the rationality and necessity of online diagnosis and treatment services, and fully guarantees the public's healthcare needs.
Apart from strengthening the implementation of relevant regulations, it is also important to publish a list of legally compliant online medical institutions and set up a hotline for reporting anomalies, giving consumers a channel to report and ensure their rights are protected, Li said.
Meanwhile, even consumers should restrict the medical advice they seek to the scope of online medical services defined by the government, and not give certain online platforms the opportunity to exceed their brief, Li said.
In recent years, the "internet plus" healthcare model has developed rapidly in China as related industries such as 5G and AI have grown at a fast pace. Initiatives such as online hospitals, online consultations for common and chronic diseases that qualify for medical insurance reimbursement, online medicine sales, and online medical insurance have been introduced, which have laid a solid foundation for the growth of online healthcare users.
According to the 51st statistical report on internet development in China released by the China Internet Network Information Center, as of December 2022, the number of users of online healthcare services in China had reached 363 million, accounting for 34 percent of overall internet users.
The rapid development of this sector has also given rise to problems, such as prescribing medication before proper or complete diagnosis, AI-generated prescriptions, and medical accidents, as outlined above, all of which raise questions about how safe the whole thing is.
However, there is hope. "The new regulation will definitely help the industry develop better," said a patient surnamed Dong. "I am sure I will feel safer when I turn to online clinics in the future."