Chinese expedition team reaches Mt. Cho Oyu summit for scientific research
Share - WeChat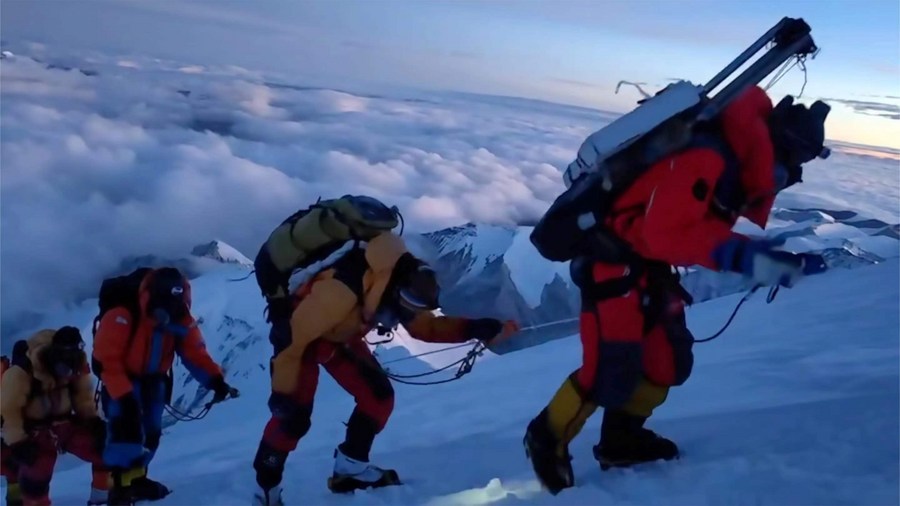 MOUNT CHO OYU BASE CAMP, Tibet -- A Chinese expedition team comprising 18 members reached the summit of Mount Cho Oyu, also known as Mt. Qowowuyag, at 9:15 a.m. on Sunday to carry out scientific research on the world's sixth-highest peak.
This is the first time Chinese scientists have scaled a peak exceeding 8,000 meters in altitude apart from Mt. Qomolangma, the world's highest summit.
Located on the China-Nepal border, Mt. Cho Oyu is the sixth-highest mountain in the world with an altitude of 8,201 meters.
The expedition carried out a number of tasks such as setting up automatic weather stations at extremely high altitudes, measuring the thickness of snow and ice on the summit, drilling ice cores and collecting snow and ice samples.
An Baosheng, the on-site commander of the expedition, said the scientists focused on major issues such as changes in Asia's "water tower," ecosystem and carbon cycle, human activities and the safety of the living environment, mineral resources and geological environment, hopefully to better understand the impact of changes in extremely high-altitude areas and extreme processes on the ecological environment of the Qinghai-Tibet Plateau.
"This expedition is of great scientific significance," said Yao Tandong, an academician with the Chinese Academy of Sciences (CAS). Mt. Cho Oyu has the thickest ice and snow on its summit among all the peaks exceeding 8,000 meters in altitude, and holds the potentially richest archive of extremely high-altitude climate change.
The mountain boasts the best area to study the effects of glacier retreat on periglacial ecosystem, as well as the processes of carbon source and carbon sink, and also the ideal area to carry out dynamic investigation of human health at extremely high altitude, Yao said.