Looking forward to a safer, faster 'kingdom of bikes'
Share - WeChat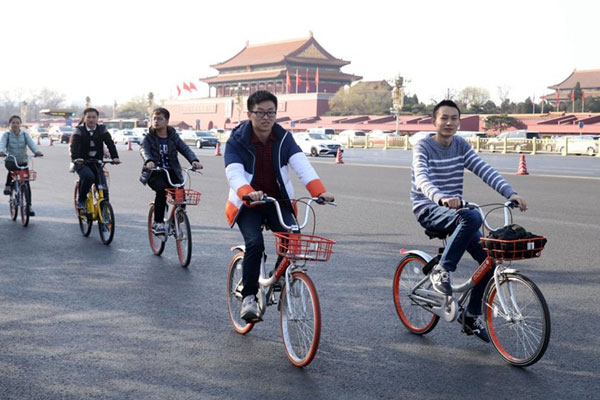 Bicycles are making a comeback in China in a big way and a new avatar. China, in the recent past, used to be called the "kingdom of bicycles" because it had the largest number of bicycles in the world — 200 million. Bicycles were also the primary means of transport for the people.
Bicycles were introduced in China about 150 years ago. And they were considered a luxury until a bicycle-manufacturing factory was set up in Tianjin in 1936. To meet the increasing demand, new bicycle-making plants were established in Shanghai, Guangzhou and Shenyang in the 1950s and 1960s, which produced millions of bicycles every year.
Despite the increasing output and high prices — for decades a made-in-China bicycle cost between 130 yuan ($17.81) and 200 yuan, that is, about five months' income of an average worker. For many years, owning a bicycle was akin to winning the heart of your lover.
To strike a balance between the rising demand and limited supply, a coupon system was introduced. And only the lucky ones could lay their hands on a new bicycle.
I bought my first bicycle — a second-hand one — when I was in high school. I didn't have a new bicycle until I came to work in Beijing. That bicycle took me to all corners of the capital for interviews and on work for five years until it was stolen.
If China was called the "kingdom of bicycles", Beijing was certainly its capital. In the early 1990s, it had more than 4 million bikes, averaging one bicycle for every two Beijing residents. During rush hours, even the 100-meter-wide Chang'an Avenue would be chock-a-block with bicycles.
While manufacturers in other countries were trying to make lighter bicycles, their counterparts in China were working hard to produce heavier bicycles because for many Chinese people, especially those in the rural areas, bikes were also used to transport their products.
With improvements in public transport-Beijing, for instance, now has 27 subway lines and 28,000 buses — people started deserting bicycles. Also, the increasing number of privately-owned cars — about 6 million last year — made roads in Beijing increasingly unfriendly to cyclists. Side or service roads, which were traditionally used by cyclists, started turning into parking lots for cars. As a result, bicycles began vanishing from the streets in Beijing and in other cities.
While many believed bicycles' future was doomed, the two-wheelers made a strong comeback thanks to the progress in science and technology. The fact that one could use an app on the smartphone to unlock and lock a bike gave birth to the shared bike business six years ago. So big is the business today that Beijing alone has 1 million shared bikes; across the country, there are 20 million such bikes in 360 cities which are used nearly 50 million times each day. And for each ride for less than half an hour, one pays 1-2 yuan depending on the location.
For commuters who have to cover relatively long distances from home to workplace and vice-versa, e-bikes have become their top choice. When we calculate the total number of shared bike rides, it will be equal to the total number of bicycles in China two decades ago.
However, the renewed craze for bicycles has created some new problems. The huge numbers of bikes parked near subway stations, bus stops and close to the entrances to residential compounds block the way, making normal movement impossible. Also, when e-bike riders move forward at a speed of say 40 kilometers an hour, accidents are unavoidable. In fact, of the about 200,000 traffic accidents each year, more than 60 percent involved e-bike riders.
Beijing announced last month that it is working to make its roads cyclist-friendly before the end of 2027 by freeing bicycle lanes of cars and creating dedicated bicycle lanes. The authorities should also ensure shared bike operators hire more people to orderly park their bikes and launch publicity campaigns to remind riders to follow traffic rules and keep in mind the convenience of residents.
We are looking forward to a future where people in the "kingdom of bicycles" can enjoy not only faster and more convenient rides but also greater safety.
The author is former deputy editor-in-chief of China Daily.
Most Viewed in 24 Hours
China Views