Games, business need balanced development
Share - WeChat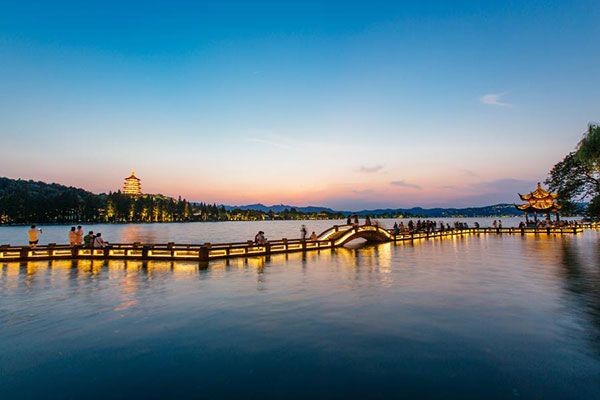 The 19th Asian Games in Hangzhou opened on Saturday. Hangzhou has previously hosted a number of international sports events, including the 2018 FINA World Swimming Championships, FINA World Aquatics Convention, contributing to the city's reputation as an international sports hub.
Major international sports events have become an important source of revenue for the host cities and countries, with the revenue being generated both in the short and long term.
International sports events require host countries to make huge investments in infrastructure. And the revenue for host cities and countries comes from TV rights, licensing and ticketing, as well as the tourism and hospitality industries. International sports events involve national and international sports bodies, with the host cities and countries required to comply to their demands.
For the Olympic Games, the income from TV rights and top sponsors helps fund the organizational costs and pay the International Olympic Committee and the domestic Olympic body. Nowadays, Olympic host cities and countries also earn revenue from multimedia and streaming rights.
Major sports events also boost tourism and generate tourism revenue.
The 2026 Olympic and Paralympic Winter Games in Milano Cortina (Italy) will likely be an example of the Winter Games being spread across cities. It is therefore necessary to analyze the possible future trends in fields such as TV and mobile internet platforms to understand the future business model of international sports galas.
Sports is a magical and extraordinary human adventure. Multimedia platforms, along with live telecasts and live streaming, create better awareness of sports, the Olympic Movement and its values and ethics.
Since at least 2,000 sports TV channels are operating across the five continents, it is necessary for them to understand what exactly viewers in different countries or cities want to watch on their TV screens. This means the channels have to make sure their contents suit their target audience. Also, the sports channels have to improve their production and telecast quality, and know how to tweak their contents so viewers find even lesser-known sports attractive.
It is also necessary to examine and study possible sources of sustainable funding and revenue to ensure the control of sports does not slip out of the hands of "sports authorities" and prevent sports events from becoming only business. As such, there is a need to maximize the potential benefits by associating with marketing and commercial partners, after a thorough analysis of the present and future of TV and multimedia rights for major sporting events around the world.
The more important an event is, the more media outlets will be attracted to it. And where there are media outlets, there will be sponsors, leading to the formation of an "unholy trinity", which could change the "laws" of sports.
For instance, in order to host the 2022 Football World Cup, Qatar invested about $220 billion in different areas, including infrastructure, much more than in previous World Cups, generating a turnover which could be compared to that of the Olympic Games.
For the 2023 Women's Football World Cup held in Australia and New Zealand, the numbers of spectators and TV viewers doubled compared with the 2019 Women's World Cup in France.
And for the 2023 Rugby World Cup, France expects 600,000 more visitors than the average for the period and aims to sell 2.5 million tickets, earning a revenue of $216 billion.
A recent study carried out by the Fédération Internationale Cinéma Télévision Sportifs (which has 130 member countries and is recognized by the IOC) shows the changes in the TV market, the multiplication of broadcasting rights (including free access, satellite, digital, cable and internet) and the corresponding prices requested by the markets, as well as the relationship between a sports event and direct and indirect advertising in all its variants.
These developments mean sports bodies, both international and national, have to take measures to ensure sports and sports events, don't become toys in the hands of advertisers and sponsors.
The views don't necessarily represent those of China Daily.
The author is the president of the Federation Internationale Cinema Television Sportifs, an organization recognized by the IOC, and a member of the IOC's Culture and Olympic Heritage Commission.
If you have a specific expertise, or would like to share your thought about our stories, then send us your writings at opinion@chinadaily.com.cn, and comment@chinadaily.com.cn.
Most Viewed in 24 Hours
China Views