A singer on a journey of discovery
Share - WeChat On a Saturday, beneath a persistent drizzle that lasted well into the night, the grandeur of the Beijing National Stadium, also known as the Bird's Nest, was undiminished by the enveloping mist and somber clouds.
A throng of nearly 90,000 spectators from across the country converged upon this iconic venue to fulfill a decade-old pledge with the Chinese singer-songwriter Hua Chenyu.
Ten years have elapsed since Hua's ascent onto China's pop music stage, propelled by his victory in the sensational talent show, Super Boy, in 2013.
Today, at the age of 33, he orchestrated a concert to mirror this milestone, with an impressive repertoire of 33 songs to commemorate his musical journey.
Aptly christened a "reporting performance", Hua articulated his intent. "As this marks my 10th anniversary concert, I wish for everyone to bear witness to the growth I've undergone over the passing decade," he says.
As twilight descended, the Bird's Nest underwent a transformation into a sea of luminous red light sticks. Amid the cacophony of screams and cheers from the audience, Hua graced the stage with an ethereal incantation, weaving an enigmatic and sacred ambience for the 2023 Mars Concert.
A graduate of the Wuhan Conservatory of Music, Hua's avant-garde compositions earned him the affectionate moniker of "Little Brother From Mars" during his Super Boy days. This epithet attested to his distinct spiritual world and artistic flair. Notably, he wowed the competition's judges with Wordless Song, an original composition devoid of lyrics but brimming with profound emotion.
Inextricably linked with his dedicated fan base, Hua's fans have long been called "Martians" and the title, Mars Concert, has been used in all of his solo events.
"The term 'Mars' is a special bond between me and my supporters," he says.
Since his debut, the youthful singer-songwriter has been on a compositional voyage of innovation and exploration, resulting in the release of five albums.
"As soon as a fresh idea takes root, whether I'm by a piano or I'm walking the bustling city streets, I am impelled to give it life," he says. "If a piano is in front of me, I play; if none is in sight, I hum the melody, recording it on my phone."
Within the crucible of creative expression, Hua poetically likened his songwriting journey to a chess match against himself. In this metaphorical arena, he grapples with his own artistry, navigating a series of strategic pivots, echoes and breakthroughs.
Recent years have borne witness to a shift in his repertoire, as his compositions increasingly delve into poignant societal themes. For instance, his performance of I Really Want to Love This World at the Bird's Nest concert sought to inspire those grappling with depression to emerge from the shadows.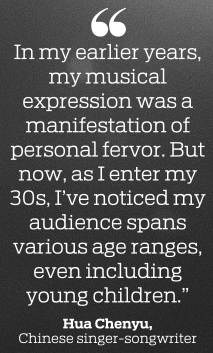 "In my earlier years, my musical expression was a manifestation of personal fervor," he says, reflecting upon this transformative journey. "But now, as I enter my 30s, I've noticed my audience spans various age ranges, even including young children. This expanding influence has ignited a profound sense of societal responsibility in me. I find myself pondering whether my work can serve as a source of solace, an aid to others in navigating their emotional tempests and resolving their quandaries during times of adversity."
He openly acknowledged his own experience of depression.
Zhu Xiaozhu, who was in the audience at the concert on Sept 9, says that Hua's music has been a spiritual support.
"As an adult, I often found myself in moments of solitude and anxiety. During those times, I turned to Hua's music. It wasn't just any music that made me happy, but music that made me feel understood, that someone empathized with me," she says.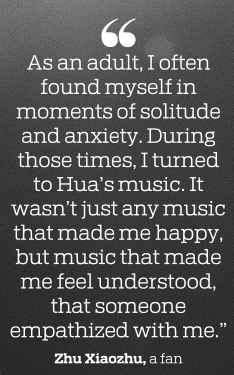 The singer, who achieved fame at a young age, expressed his gratitude for the affection of his diverse fan base, and for the honors bestowed upon him. In 2020, he secured the coveted title of the singing reality show Singer, emerging as the competition's youngest-ever victor.
The path of musical mastery remains an unending journey of learning, marked by yearly phases of rapid growth. Whether composing songs, arranging music, or orchestrating concerts, Hua adheres to the doctrine of "crazily thinking and then crazily learning" within compressed time frames.
In addition, he also pushes the envelope of innovation in the design of his concerts. In 2021, he unveiled a creative concert format in Haikou, Hainan province, a daylong extravaganza that mirrored the vibrancy of an amusement park, running from dawn until dusk. Fans reveled not only in his melodies but also enjoyed gastronomic delights, libations, and wholesome entertainment.
This year at the Bird's Nest, Hua discarded the conventional three-sided stage in favor of a four-sided configuration, intensifying the demands placed on the performer. Every gesture, every nuance, lay exposed to the audience's gaze, unprotected by blind spots. His concert also showcased a lighting setup anchored by a load-bearing roof capable of supporting nearly 200 metric tons.
But the insatiable artist has much still to achieve. He confesses that the concert he envisions in his mind has yet to materialize fully. "I will spare no effort to present the Mars Concert in my imagination. I firmly believe that there exists ample room for improvement," he says.
Yan Bingjie contributed to this story.