A taste of adventure
Share - WeChat On the summer menu at Qu Lang Yuan, a restaurant nestled in a yard in a hutong alley in Beijing, a sea cucumber dish is impressing the guests. As it arrives, the essence of the sea floods the senses, and enjoying this delicacy is like being transported to the seaside.
The sea cucumber, which is marinated sous vide (cooked in a sealed bag) and filled with Gillardeau oyster sauce, has a rich and satisfying taste. The marine delight is thoughtfully paired with seaweed and sago crisps, creating a harmonious interplay of textures and a well-balanced mouthfeel.
It is served on a bed of barnacle shells nestled in a saggar — a boxlike ceramic container normally used to protect objects being fired in kilns.
The outer surfaces of the containers are covered in moss. The growth developed over time as the containers lost their use after the ceramics were fired, and were subsequently buried.
Food writer Jocelyn Chen enjoyed the dish conceived by Li Zhanxu, executive chef at Qu Lang Yuan, very much.
"Traditional cooking methods may involve braising or stewing, but Li prefers to present the delicious taste of sea cucumbers in an innovative way, challenging traditional cooking techniques," Chen says.
She says the sea cucumber dish showcases Li's cooking philosophy, which is rooted in Chinese ingredients and culinary culture, while also incorporating the essence of Western cuisine, injecting a fresh vitality and creativity into the ingredients.
"The cooking philosophy of both chef Li and Qu Lang Yuan is not just about deconstructing tradition, but also about constantly refreshing her skills through breakthroughs," Chen adds.
"Chef Li is friendly and pleasant, like 'the girl next door', but her inner self is unassuming, straightforward, and resilient."
At the age of 27, Li stands out as a rising star on Beijing's culinary scene, and is known for her innovative, creative approach to dishes. Despite her youth, she boasts nearly eight years of experience.
In 2015, after graduating from high school, Li traveled to Angers in France with the intention of pursuing a diploma in fashion design. However, with no prior experience of cooking, she soon realized that she had to learn how to make Chinese food if she wanted to enjoy it there.
"I found it amazing that when cooking, I can control and design the whole process," she says. "I was satisfied with the dishes I made and my friends all liked them."
Over time, Li's interest in cooking grew, leading her to enroll in a one-year French cuisine course.
She fondly recalls the comprehensive training that taught her fundamental skills from scratch, and which provided a strong foundation for her culinary journey. "They teach you how to create a full menu including dishes and dessert," she explains.
After the one-year training, Li continued to study culinary arts and management at the Institut Paul Bocuse, where she threw herself into constant learning in class, and practiced her skills by working in different restaurants.
Besides cooking, she also learned how to run a restaurant, including accounting, law and research, as well as how to create a logo for a restaurant and how to design the layout of a kitchen.
Her studies allowed her to accumulate a wealth of internship experience, mostly at Michelin-starred restaurants, and exposed her to a variety of ideas and methods related to running a kitchen and a restaurant.
She began her culinary journey in Lyon under the mentorship of Christophe Roure, who ran a two-star Michelin restaurant renowned for its fusion of Japanese and French cuisine. This experience gave her a profound appreciation for the cooking styles of different cultures.
Later, Li moved to Paris and snagged a spot at Alain Ducasse's then three-starred Michelin restaurant at the Hotel Plaza Athenee, which was renowned for its focus on seafood and grains.
To secure the coveted role, Li meticulously prepared for her interview, leaving no detail of the restaurant unexplored.
But receiving the job offer was just the beginning. Working at one of the world's top restaurants demanded the highest level of expertise, and she reminisces about the rigorous demands placed on her. Her days were long, often extending from 8 am to 1 am during which she tirelessly tackled kitchen tasks.
"At first, I couldn't understand the French names of the dishes, as many of the ingredients were niche and weren't found in regular markets, but were grown in their garden," Li says. One daily challenge involved preparing sauces for every item on the menu, with ingredients requiring precise cutting and hand-grinding before being turned into sauces.
The intense daily grind did not extinguish her passion. On the contrary, her resilience spurred her to challenge herself even more.
Even when it came to routine tasks as mundane as peeling quail eggs, if it took her 35 minutes to peel 80 eggs one day, the following day she quietly resolved to do better.
The hard work paid off and the experience provided Li with invaluable insights into the intricacies of operating and managing a fine dining establishment, further testing her skills.
She gained a score of 18 out of 20 from her experience at Ducasse, distinguishing herself as one of the top interns at the school and her journey was captured in a documentary by French television channel TF1.
Li also worked at Oka, a one-starred restaurant helmed by Brazilian chef Raphael Rego. This experience gave Li the opportunity to engage with diners.
Over the course of several internship experiences, Li was one of the few women in the kitchen. Despite the demands of the job, her strong will enabled her to excel at each new position, and she demonstrated a rapid ability to master the required skills.
"My experience was to always be diligent in the kitchen," she says.
In 2021, after living in France for six years, Li decided to return to China. Although she had initially planned to extend her stay in France, COVID-19 caused her to reconsider.
After a short break, she found her first job as the dessert chef at Qu Lang Yuan. Li remembers that her first visit to the restaurant had been in 2017, when she went for afternoon tea and was impressed by its environment.
She made desserts for a year, earning the praise of diners and then last year; was made executive chef and given responsibility for the overall running of the restaurant.
Li never expected her first executive chief position would happen this soon. "You don't need to plan your next step, as long as you give your best, there will be rewards," she says.
On July 1 last year, when her first set menu was launched, Li felt a bit nervous, and carefully observed the reaction of diners and later checked their views at online platforms of review and rating.
Determination constantly propels her to refine and elevate herself. This summer, after four rounds of creating and launching new menus, Li finds herself better adapted to the job and is improving with each new menu.
Besides taking control of the kitchen, she is managing a team of around 20, looking after every detail, even down to the choice of soap in the restaurant's bathroom.
She also engages in quarterly collaborations with different artists, pushing the boundaries and transforming the restaurant into an exhibition space featuring displays of traditional objects.
The fusion of food, paintings and decorative ware elevates and enriches the overall experience, she says.
Li likes permutations and combinations, and finds joy in the art of harmonizing different ingredients. She says the process is much like crafting a fragrance, an act of continual creation that must avoid copying others and, most importantly, repeating oneself.
A social media influencer nicknamed Li Xiaoni has witnessed Li Zhanxu's progress over the last two years from dessert chef to executive chef.
"I'm impressed by one of her chicken dishes, which involves stuffing snail meat and spring bamboo into a chicken wing. Her dishes are distinctive, and the flavors are truly unique," she wrote on Xiaohongshu, a popular Chinese lifestyle platform.
"This could very well be the distinguishing trait of chefs born after 1995s. They do not confine themselves to established norms. Rather, it is their unrestrained and imaginative creativity that embodies the future trend."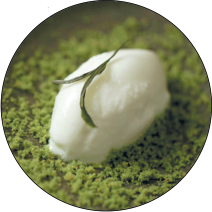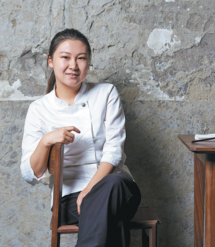 Today's Top News
Editor's picks
Most Viewed