US faced with dwindling ranks in police forces
Share - WeChat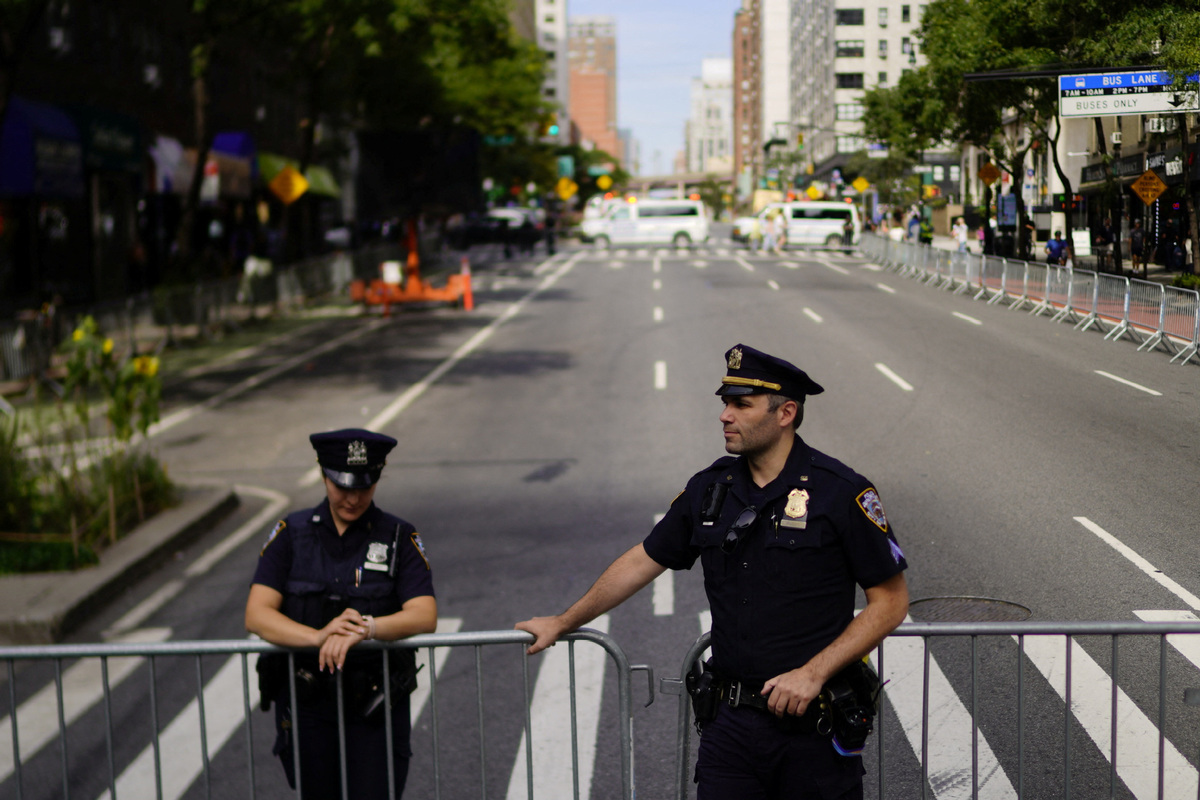 More resignations and fewer willing applicants have led to a shortage of police officers across the United States, so much so that some smaller towns have had to close their police departments.
In the past two years, at least 12 small towns have dissolved their departments, according to The Associated Press. At least 521 US towns and cities with populations between 1,000 and 200,000 disbanded their police departments between 1972 and 2017, according to a study by Richard Boylan, a Rice University professor of economics , the AP reported.
The latest example is Goodhue, Minnesota, population 1,300. Its entire police department — including one full-time officer and five part-time officers — resigned in August when Chief of Police Josh Smith announced his resignation.
Smith told the City Council in July that he was getting offers from larger departments, and low pay was a big deterrent to recruiting officers to the small city.
"Right now, currently trying to hire at $22 an hour you're never going to see another person again walk through those doors," Smith told the council. "It's been three weeks now; we have zero applicants, and I have zero prospects. I've called every police department around looking for the youngest guys out there looking to get into the game, and there's no one getting into the game."
On Aug 24, just hours before it was to have been left with no law enforcement, the city in southeast Minnesota approved a temporary contract with the Goodhue County Sheriff's Office through the end of the year, although it is four staff members short.
Also in Minnesota, Spring Grove eliminated its police department last year after the sole officer who also served as police chief retired. The city of Morris also disbanded its police department after the police force dwindled to two officers in 2022, while Wheaton experienced a similar fate earlier this year.
In New York state, the Newark police department also faces a staff shortage. With a population of 9,000, the city 35 miles east of Rochester is budgeted for 15 officers but now is short four. The department must temporarily shuffle shifts, call on officers to work overtime, hire some part-timers and ask the county sheriff to provide some coverage.
As soon as the Newark situation went public, Mayor Jonathan Taylor said other mayors told him they are dealing with the same challenge.
"It's really kind of a nationwide problem," Taylor told local news outlet Spectrum. "Just a lack of individuals interested in going into law enforcement; we're seeing it all over the country."
Boylan's study found that disbanding police departments doesn't appear to affect overall crime, but it shifts responsibility to county sheriffs and reduces the available information about cities' crime rates.
Big cities aren't immune, either. The New York Post reported that 239 officers quit the New York City police force in January and February of this year, a 36 percent spike from 176 who quit in the same period last year and a 117 percent jump from the 110 in 2021, according to NYPD pension data.
Twenty-one former New York officers turned around and joined the city's Metropolitan Transportation Authority (MTA) police force, which offers better terms. The MTA runs the city's subway and train lines.
Prior to the pandemic in 2019, about 3,000 left the city's police force. In 2022, 3,700 left, and fewer than 2,000 were hired, according to City Journal.
A January tweet on a hiring day by the Police Benevolent Association of New York City showed that the city was having difficulty recruiting: "We needed 1,200 new recruits to reach the current budgeted headcount, or 2,500 to get back to 2019 staffing levels. We got 543. Underpaying and overworking police officers is hurting public safety. The time to fix it is now."
In Boston, staff shortages has forced the police department to transfer 40 officers temporarily to work in districts to relieve officers who have been working overtime and bearing the brunt of the staffing shortages.
The Police Executive Research Forum conducted a survey on staffing, hiring, retirement and resignation trends among officers from 2019 through 2021 and found that law enforcement departments face serious staffing issues.
Of the 173 departments surveyed, an average of 94 percent of positions were filled. Departments in the South and Midwest had the lowest filling rate, about 90 percent. Overall, officer resignations went from 3,235 in 2019 to 4,643 in 2021, and there were 4,741 fewer officers in 2022 than in 2020. The average resignation rate had increased by 42 percent from 2019 to 2021.
Chuck Wexler, executive director of the forum, told the AP that compounding the exodus of veteran officers, young people are increasingly unwilling to go through the months of training necessary.
"Fewer people are applying to be police officers, and more officers are retiring or resigning at a tremendous rate," Wexler said. "There's a shortage of police officers across the country."
Some police departments also are having trouble recruiting new cadets since the murder of George Floyd during the pandemic in 2020 led to much criticism of police and a national "defund the police" movement.
"It's a combination of a lot of things," Newark Police Chief Richard Martin told Spectrum. "The economy has been fairly good. That always impacts professions like policing. Certainly, there's been a lot of negativity around law enforcement."