Much-loved proposal
Share - WeChat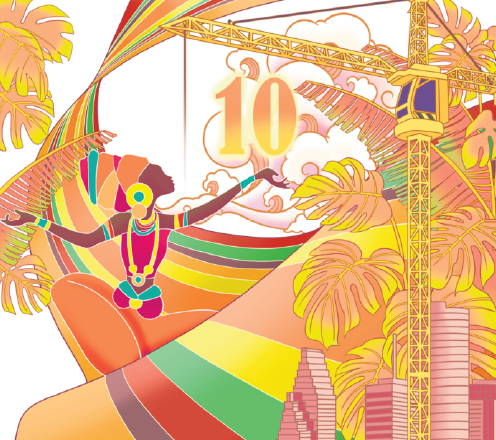 China has supported so many projects across the continent, that many policymakers are wishing the Belt and Road Initiative a long life in Africa
This year marks the 10th anniversary of the proposal of the Belt and Road Initiative, to which nearly all African countries are signatories. During this period, China and African countries have laid part of the foundation for Africa's industries of tomorrow.
In the process, China has become Africa's largest source of funding for infrastructure building. China currently funds about a fifth of all infrastructure projects on the continent.
BRI projects have become signature development projects in many African countries. The list includes Algeria's El Hamdania Central Port, the Addis Ababa-Djibouti Railway, Egypt's New Administrative Capital, Kenya's Standard Gauge Railway, Nigeria's Abuja-Kaduna Railway Line, Ethiopia's Eastern Industrial Zone and many others.
The more than 200 projects are Africa's own vision of itself expressed through Chinese skills and technology.
Africa holds the world's last, significant, unexploited natural resources including minerals and rare earth metals that could play a critical role in the transition from fossil fuels. This makes Africa appealing.
But lack of many elements and infrastructure means that for some would-be investors, the risks of investing in Africa outweigh the opportunities.
In this respect, Belt and Road infrastructure projects are paving the way for others to invest during later stages of development. By reducing the risks, BRI projects are making African countries more attractive for others to invest in.
The African Development Bank estimates that for African countries to sustain the growth of their economies, population and income levels and replace ageing infrastructure, the continent must invest a minimum of between $130 billion and $170 billion each year.
African governments manage to invest only half of this amount annually. But they are making sincere efforts in this direction.
For example, according to Deloitte Insight, in 2018, African governments shouldered 24.5 percent of the investment of infrastructure projects. International development finance institutions stepped in to provide 13.7 percent. The continent's own finance institutions provided 9.1 percent. This left ample opportunities for other investors.
China stepped in with 18.9 percent, thanks to the Belt and Road Initiative. Western countries provided about 13 percent of the finances. Local investors provided 10.6 percent.
The focus on infrastructure is justified. According to the World Bank, if sub-Saharan Africa could close the current gap in infrastructure, gross domestic product per capita would grow by an additional 1.7 percentage points each year.
Moreover, African policymakers know that countries such as China and India have maintained fast growth by investing over 30 percent of their GDP in infrastructure and capital equipment. So who should they emulate? The Belt and Road Initiative is empowering African countries to do that.
By design, Belt and Road projects fit into the African Union's Agenda 2063 and the Programme for Infrastructure Development in Africa. They also complement the African Continental Free Trade Area among other initiatives. They improve connectivity and logistics, raise the profile of countries, promote intraregional and global trade, transfer skills and technology, among other benefits. In effect, Belt and Road projects lower the risk of investing for future investors.
In the course of its first 10 years, the Belt and Road Initiative has been criticized from two perspectives.
The first perspective is that Africans are undiscerning and fall into the so-called debt traps easily. While some African countries in their impatience with slow development have borrowed imprudently, this is by no means new or unique to the China-Africa partnership, as is evident from countless rescheduling of debts with the World Bank, the International Monetary Fund and the consortia of European lenders. It is hardly an indication of lack of discernment.
The second perspective is that the Chinese are "deceptive" in their lending practices and not transparent in their ultimate goal of "colonizing" Africa. Coming from Western analysts so soon after the end of physical colonization of Africa, this criticism of China is ironic.
These condescending views about the Belt and Road projects have been expressed in other continents, too, but it is in Africa where the criticisms are most stark and blunt. They are driven by the implicit view that by partnering with African countries, China has upset a preordained system in which Africa is a preserve. Judging by the rapid growth of the collaboration between African countries and China, Africa is indeed a preserve — for Africans.
African countries want the best possible terms for financing infrastructure projects — lower costs, better terms for repayment, fast delivery, and more respectful non-intrusive partnerships. These are the elements of rational choices.
African policymakers want partners who are willing to work with Africa's own priorities.
Clearly, many African policymakers believe that China meets these requirements in general, and specifically in the context of the Belt and Road Initiative.
For generations, African countries have had the opportunity to lay the foundation for Africa's industrialization in partnership with China.
For example, the Lagos Mass Transit Rail, which was inaugurated recently, was probably needed since the final years of Britain's colonial rule in Nigeria that ended in 1960. Lagos is the pulse of Africa's largest economy. Lagos accounts for about 27 percent of the gross domestic product of Nigeria's economy and over half of the country's non-oil industrial capacity.
It took Chinese skills and finances assembled by Nigeria to realize this long-awaited mass transit facility.
China has supported similar projects across the African continent. For this singular reason, many African policymakers hope that the Belt and Road Initiative will have a long life in Africa.
The author is a former economist with the World Bank and advisor for the Kenyan government. The author contributed this article to China Watch, a think tank powered by China Daily. The views do not necessarily reflect those of China Daily.
Contact the editor at editor@chinawatch.cn.
Most Viewed in 24 Hours
China Views