'Cloud planting' projects stop deserts from merging
Share - WeChat A program to green large areas of land in North China is holding back sand encroachment and raising incomes. Yuan Hui reports from Alshaa League, Inner Mongolia autonomous region, with Li Hongyang in Beijing.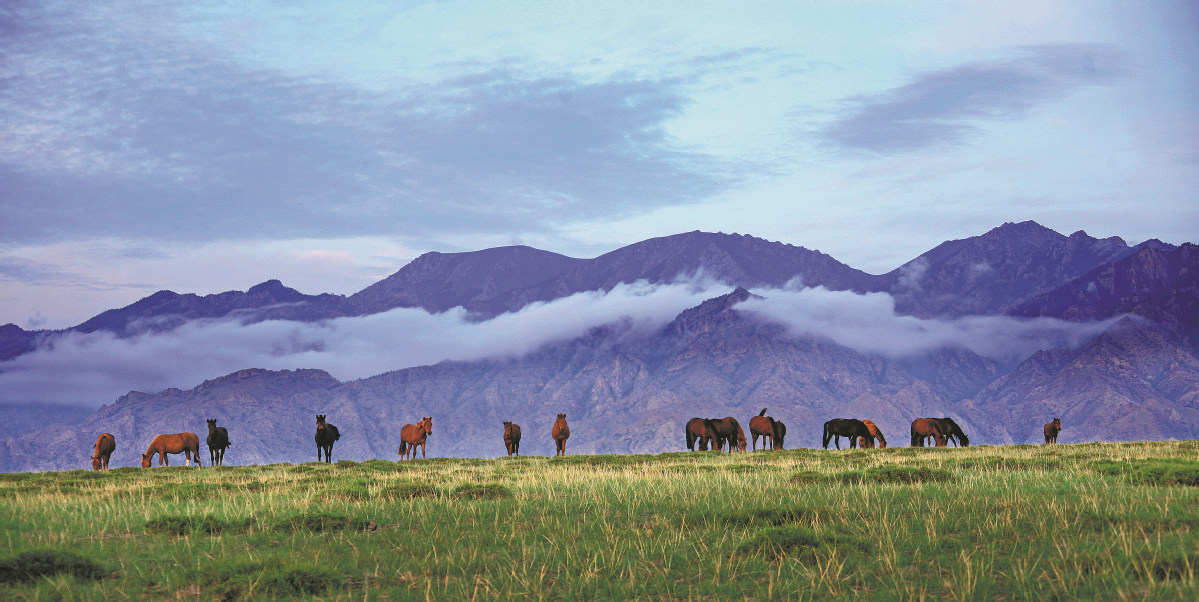 In the 1980s, the expansion patterns of three deserts indicated that they would eventually meet in Alshaa League, Inner Mongolia autonomous region.
That prediction led many local farmers and herders to leave their homes in search of better opportunities elsewhere.
The league, which is home to large areas of three major deserts — the Badain Jaran, the Tengger and the Ulan Buh — has long been plagued by desertification.
The encroaching sand threatened settlements near the Yellow River and the Helan Mountains, so in recent decades residents who refused to leave have tried a variety of methods to save their homes.
After Liu Hongyi graduated from Zhalantun Forestry College in Hulunbuir, Inner Mongolia, in 1986, the Alshaa League native began working at a sand control station near his home.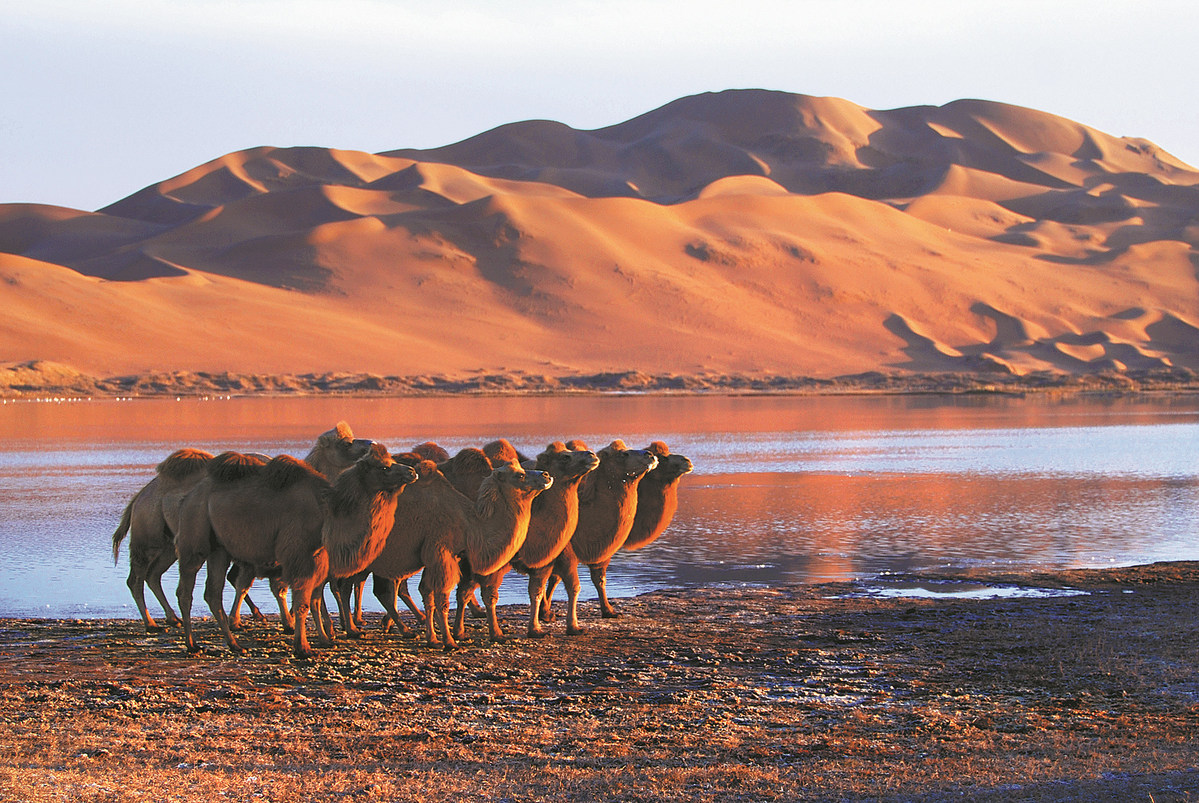 He quickly organized a team to undertake afforestation techniques including "cloud planting", a process that involves the use of aircraft loaded with tree and grass seeds which are sown from the air over land in need of greening.
The method allows seeds to be sown in remote mountainous regions, sandy areas or places that are difficult to reach with conventional land vehicles.
Cloud planting is usually conducted at the edge of deserts where vegetation covers less than 5 percent of the land. The aim is that trees should grow rapidly and their roots will provide protection by anchoring the sand.
To aid the seeds' survival, the process usually occurs in June and July, when there is more rain, Liu said. He added that the usual mix is 500 grams of seeds per 0.067 hectares because the scant water resources are unable to support higher volumes. "Despite initial theories that areas with annual precipitation of less than 200 millimeters were unsuitable for this technique, forestry experts and workers in the league persevered with their experiments," he said.
In Alshaa, annual precipitation ranges from 37 mm to 150 mm. Meanwhile, the average annual evaporation level is as high as 4,200 mm.
The area has an extremely fragile environment, the most serious degree of desertification, the worst natural conditions and the greatest difficulty in land governance, according to the local government.
In the 1980s, local people turned to cloud planting for afforestation. Lacking today's satellite technology, they manually marked key areas for sowing seeds, using red flags and mirrors as reference points for the aircraft. In the scorching desertified areas, the forestry workers carried their tools and food supplies while walking for hours to reach the designated spots.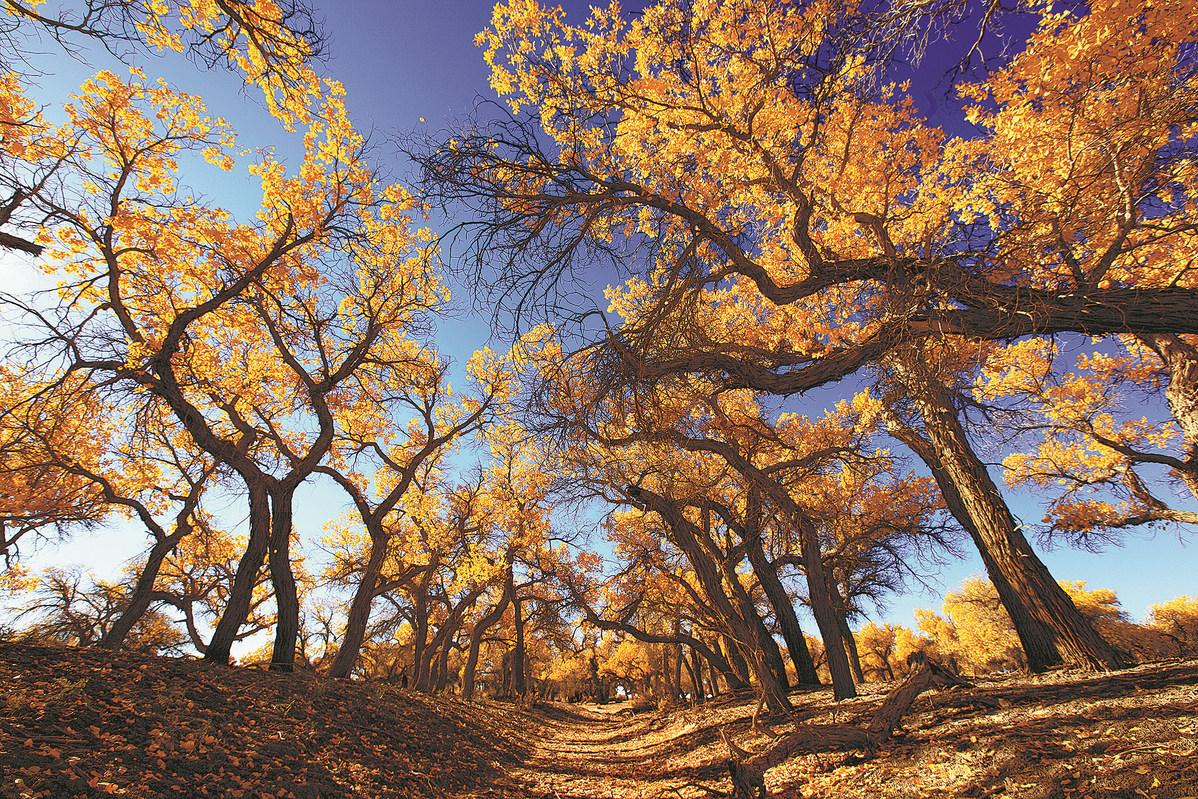 Change, adaptation
Initially, the growth rate of the seedlings was more than 20 percent, but the survival rate declined every year as a result of trees being planted in unsuitable areas and inadequate management and protection, Liu said.
Starting in 1998, he and his peers recognized the need to change tree species, so they replaced traditional types such as poplars and elms with "shrub-type" native species such as suosuo trees.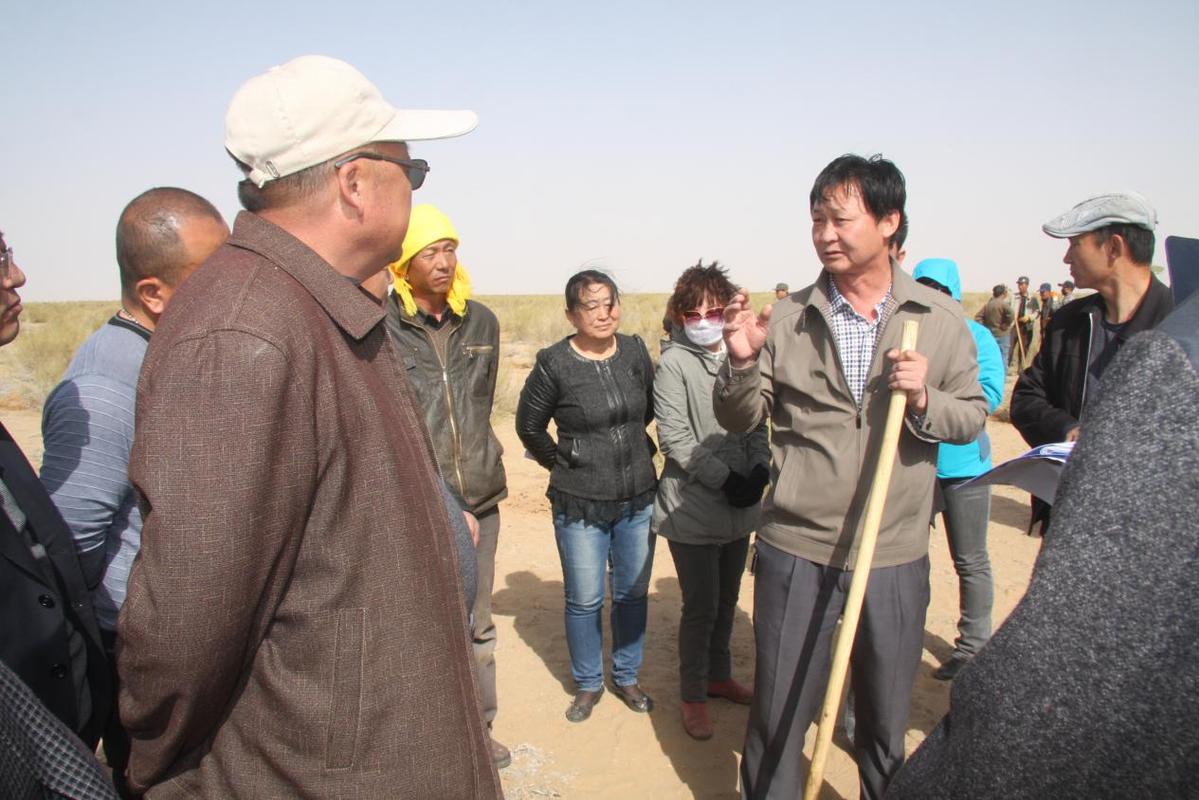 Previously, protective forests had consisted of poplars, elms and jujube trees. However, by the 1990s, the forests were in a state of severe degradation, which left vast areas of land vulnerable to sand encroachment. Strong winds toppled the once-thriving forests, leaving a barren landscape, Liu said.
Choosing suitable trees and sowing them via cloud-planting techniques that provided efficient large-scale coverage and rapid results at low cost proved an appropriate method for the vast and sparsely populated Alshaa region, he added.
Since 1982, about 470,000 hectares of land in the league have been afforested via cloud planting. They form two belts that stretch a combined 460 kilometers and range from 3 km to 20 km in width on the southeastern edge of the Tengger and Ulan Buh deserts.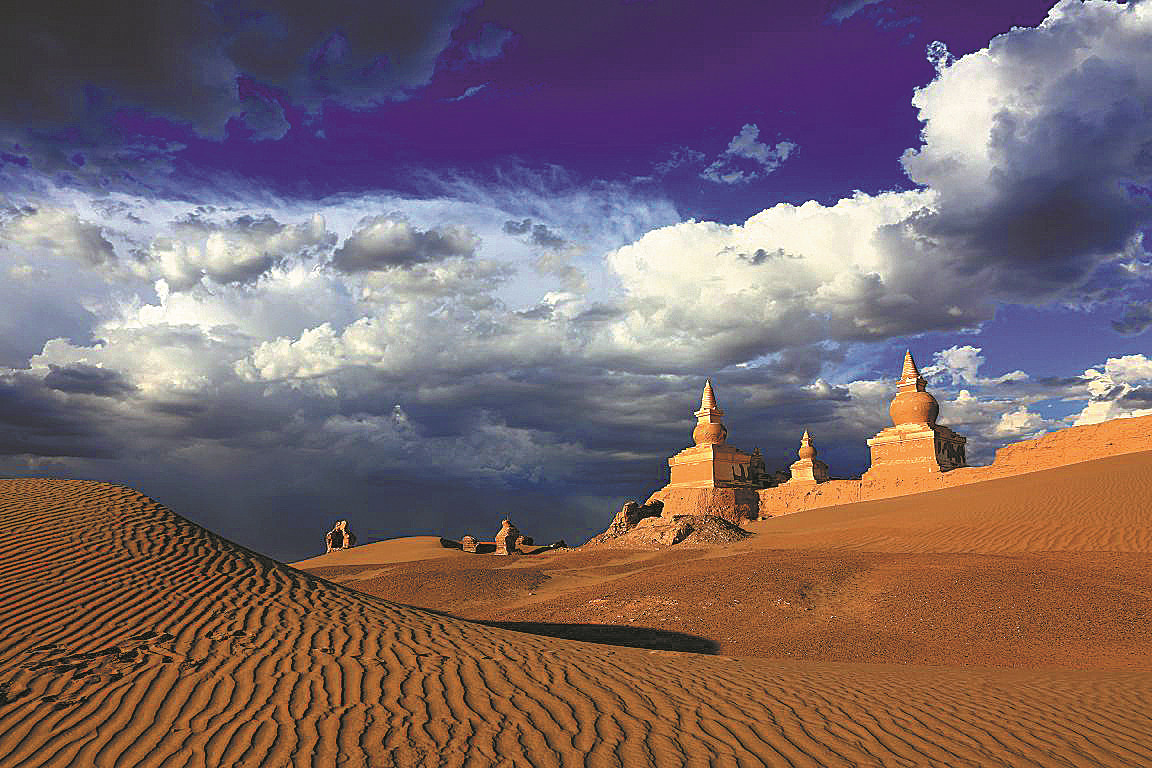 "The belts have curbed the 'handshake' between the two deserts," Liu said.
In recent years, the local forestry department has been planning a 200-km-long sand control belt at the intersection of the Badain Jaran and Ulan Buh deserts.
All the efforts have yielded positive results. Over the past 40 years, the region around Alshaa has successfully undertaken desertification control across more than 6 million hectares, which has resulted in forestry coverage rising from about 3 percent to 8 percent.
The vegetation coverage on the grassland has also risen, from less than 15 percent to 23 percent.
By 2030, about 560,000 hectares of the desertified area will be afforested and a third sand control belt will have been formed, providing environmental security and ensuring the safe operation of railways and expressways, Liu said.
The improved environment has also greatly raised local incomes. Now, more than 30,000 farmers and herders in Alshaa's forestry and grass industry earn average annual incomes of 30,000 to 50,000 yuan ($4,115 to $ 6,860).
A complete industry chain has been formed to integrate the planting, processing, production and sales of suosuo, sandy grapes and black fruit goji berries, according to the local government.
The Forestry Bureau of the Three-North region said the afforestation work in Alshaa is part of wider efforts to fight desertification in North China. It added that the program has made great strides in the past 45 years.
By 2025, the Three-North Shelter Forest Program will have planted trees across 551 counties in North China, it added.
So far, the program, which was launched in 1978, has seen 32 million hectares of forests planted and conserved, and 85 million hectares of degraded grassland have been restored. Meanwhile, forest coverage in the areas involved in the project has risen from 5.05 percent in 1978 to 13.84 percent now.
Tourism developments
In Alshaa, tourism is thriving along with the development of the forestry program. Measures such as the Three-North Shelter Forest Program and the Western Desertification Control Project have contributed to halting the expansion of the Badain Jaran Desert, according to local media.
Among the attractions, the Badain Jaran has unique features, including more than 100 lakes, springs and ancient temples. Recognized as one of the 17 most representative adventure tourism areas in China, it has become a popular off-road challenge for tourists, local media reported.
Located in the desert, the Alshaa Euphrates Poplar Forest Campsite for self-driving travelers covers 15 hectares. It aims to become North China's premier self-driving destination, providing high-end experiences that combine self-driving services with sightseeing tours, according to local media.
The campsite features several dedicated sections, including zones for self-drive camping, wooden villas, shell houses and traditional camping. It also offers a range of services for self-driving tourists, such as barbecue areas, accommodations options and other leisure and entertainment activities.
A tourist from Changsha, Hunan province, surnamed Sheng, told local media that she was stunned by the beauty of the desert sunsets and the vastness of the landscape, stretching as far as the eye can see.
Zhao Zhijing, who oversees the Tonghu Lake Grassland tourism area, told local media that the number of tourists rose during this year's summer season, and the area received an average of about 2,500 visitors every day.
Contact the writers at lihongyang@chinadaily.com.cn