Cataract program is a ray of hope for patients
Share - WeChat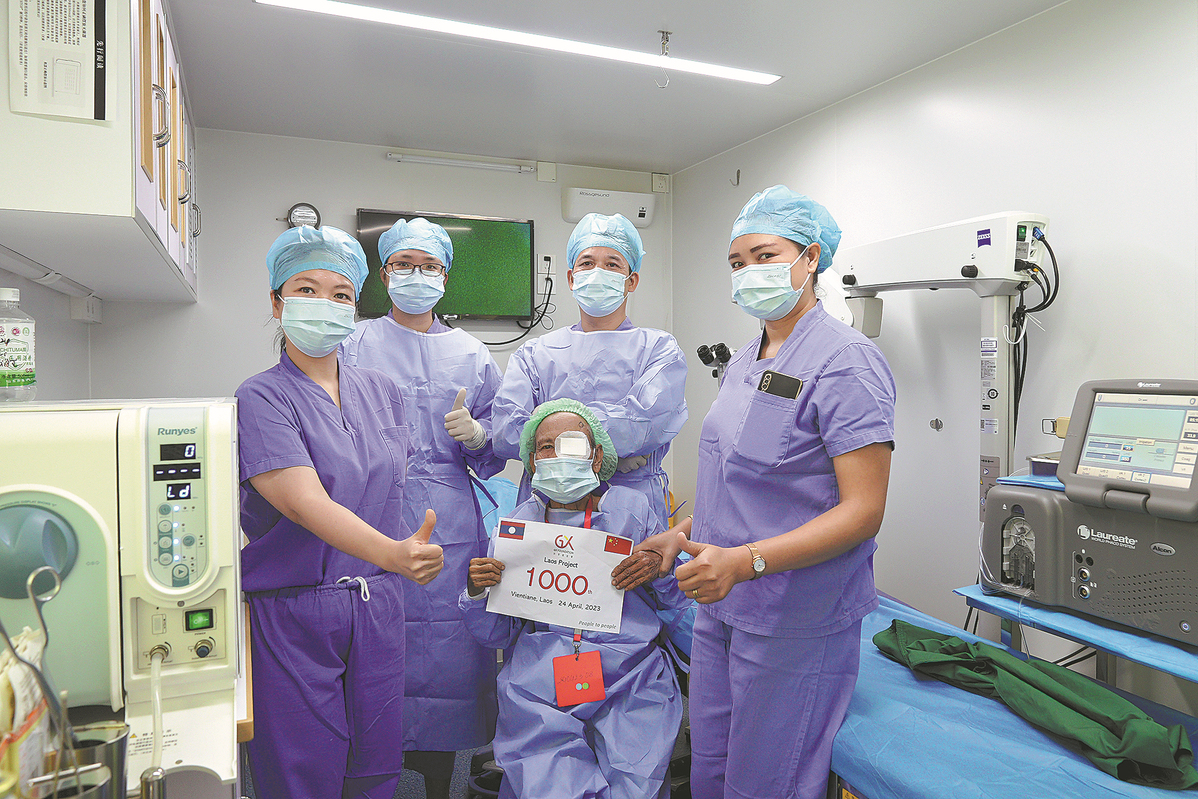 A foundation in Hong Kong has been providing free surgery for people in five countries across Asia and Africa. Wang Yuke reports from Vientiane, Laos.
Mai Tilathatkimkao gingerly edged her way down a flight of stairs from a no-frills mobile operating room parked next to the biggest hospital in Vientiane, capital of Laos.
The 76-year-old beamed from ear to ear, her left eye covered by a gauze pad while her right eye had an ecstatic twinkle.
Flanked by two Chinese medical professionals, she picked up the pace as much as her quivering legs could handle. She couldn't wait to embrace the people waiting for her to "come out of the blurry shell" outside the makeshift surgical center.
Caught off guard by her exuberant bear hug and radiant giggles, I found myself wrapping my arms around her shoulders. The high-octane vigor of her "rebirth" was just so infectious.
Tilathatkimkao — a frail woman, just over 1.4 meters tall, who'd had debilitating cataract blindness for many years — was the 1,000th patient to benefit from free surgery performed in Laos by the GX Foundation, which is based in Hong Kong.
The foundation's achievement marked a milestone in its Cataract Blindness Elimination Project, which aims to clear a backlog of cases in five countries participating in the Belt and Road Initiative, launched by President Xi Jinping in 2013.
The organization started the project in September, and so far it has completed more than 2,000 operations to help patients regain their sight. It aims to hit its target of 9,600 successful outcomes in Laos, Cambodia, Djibouti, Mauritania and Senegal by the end of the year.
The landmark 1,000th operation, performed on April 24, also took the program a step closer to the medical "holy grail" set by Leung Chun-ying, the foundation's chairman. "At the end of the day, the five countries will be able to declare, 'We're free of cataract backlogs'," he said.