'Once-in-a-century' rain hits HK, Guangdong
By William Xu, Wang Xu in Shenzhen, and Zheng Caixiong, Li Wenfang in Guangzhou | chinadaily.com.cn | Updated: 2023-09-08 22:38




Share - WeChat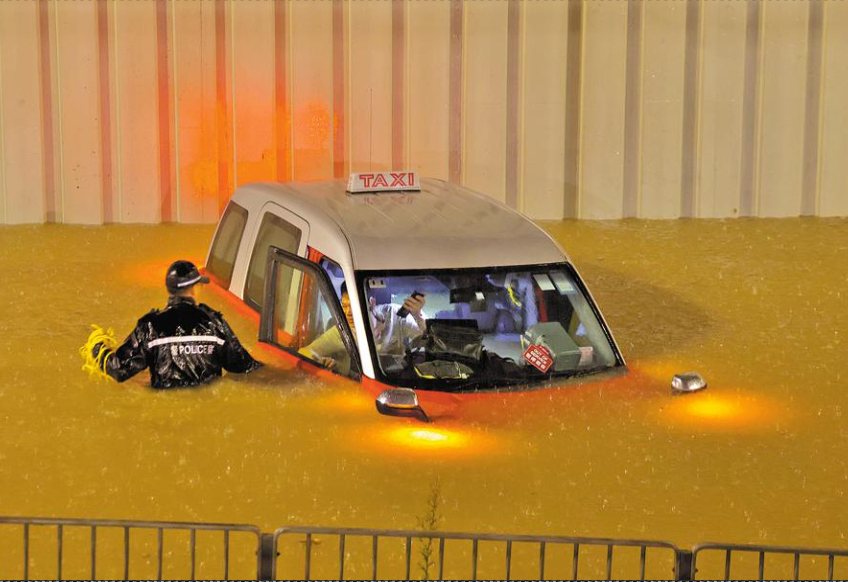 A "once-in-a-century" rainstorm has inundated and flooded Guangdong and Hong Kong since Thursday night, submerging roads, tunnels and metro stations, as well as cars and buildings, with over 100 people injured and thousands trapped.
The rainstorm gradually eased by noon on Friday, as the local authorities made an all-out effort to aid flood-hit residents and clear flooded roads.
The torrential rains were brought by a trough of low pressure associated with the remnants of Haikui — a typhoon that hit the Greater Bay Area in early September.
Hong Kong's weather observatory said it recorded 600 millimeters of rainfall in 24 hours, amounting to a quarter of the city's annual precipitation.
Between 11 pm and midnight on Thursday, the city logged hourly rainfall of 158.1 mm — the highest level since 1884 when record-keeping started. The city issued a black rainstorm alert at 11:05 pm on Thursday, which lasted for 16 hours and 35 minutes, breaking the previous record of 5 hours and 47 minutes on Aug 23, 1999.
Meanwhile, in Chai Wan, Wong Tai Sin, Sheung Shui and many other areas across the city, raging floods were reported to have deluged streets, shopping malls, underground parking lots and metro stations. Short videos showing alarming flood-related scenes, including a woman swept away by floodwaters in a street, went viral online.
As the heavy rain continued, the Hong Kong Special Administrative Region government announced on Friday morning that the city was facing "extreme conditions", with all schools suspended and stock trading halted.
By Friday noon, the authorities had evacuated 110 residents and aided 20 injured people during the rainstorm. The police and fire services had also received over 1,000 calls for assistance and handled 341 cases of flooding, 10 related to landslides, 58 for people trapped in elevators and 18 related to fallen trees.
A total of 132 people were admitted to public hospitals, with four in a severe condition, according to the Hospital Authority.
Hong Kong Chief Executive John Lee Ka-chiu visited a community center in Tsz Wan Shan, Wong Tai Sin district and the Yiu Tung Estate in Shau Kei Wan on Friday afternoon to learn their situations. Both places had been severely hit by the rainstorm.
Lee also said in a social media post that he had instructed all government departments to continue to do their utmost to assist local residents.
Hong Kong's metro and bus operators had gradually resumed their services since Friday morning.
The government said the "extreme conditions" would remain at least until Friday midnight and would end once public transportation returns to normal, Chief Secretary for Administration Eric Chan Kwok-ki said at a news conference on Friday afternoon.
The torrential rain also wreaked havoc in many cities in Guangdong province. In the 24 hours before 7 am on Friday, about 100 townships and subdistricts in Guangdong were hit by over 250 mm of rainfall.
Classes at primary and middle schools in Shenzhen, Zhuhai and parts of Guangzhou, Dongguan and Foshan were suspended on Friday, while some roads and highways in the province were temporarily closed due to the risk of landslides, flooding or fallen trees.
As of noon on Friday, the province had received 805 reports of heavy-rainfall related alerts, and evacuated and rescued 3,432 people.
Around 100 people who had been stranded at Shenzhen Railway Station in Luohu district were rescued on Friday morning, after the station was deluged by the heavy rainfall.
Shenzhen also temporarily closed the Liantang and Wenjindu boundary control points, with waist-high water inundating the ground floors leading to the arrival halls at the height of the storm.
Faced with the record-breaking rains, Shenzhen had to discharge water from the Shenzhen Reservoir on Thursday night, as its water level had approached the flood limit.
The Shenzhen government also launched a temporary assistance program to help residents who have encountered difficulties in their basic living conditions due to the rainstorm.
Eligible residents can receive a one-time payment amounting to not less than two months of the city's minimum living guarantee standard — 2,826 yuan ($384) — and not exceeding three months of the minimum living guarantee of 4,239 yuan.
Contact the writers at williamxu@chinadailyhk.com