Researchers monitor activity of rare white panda
Share - WeChat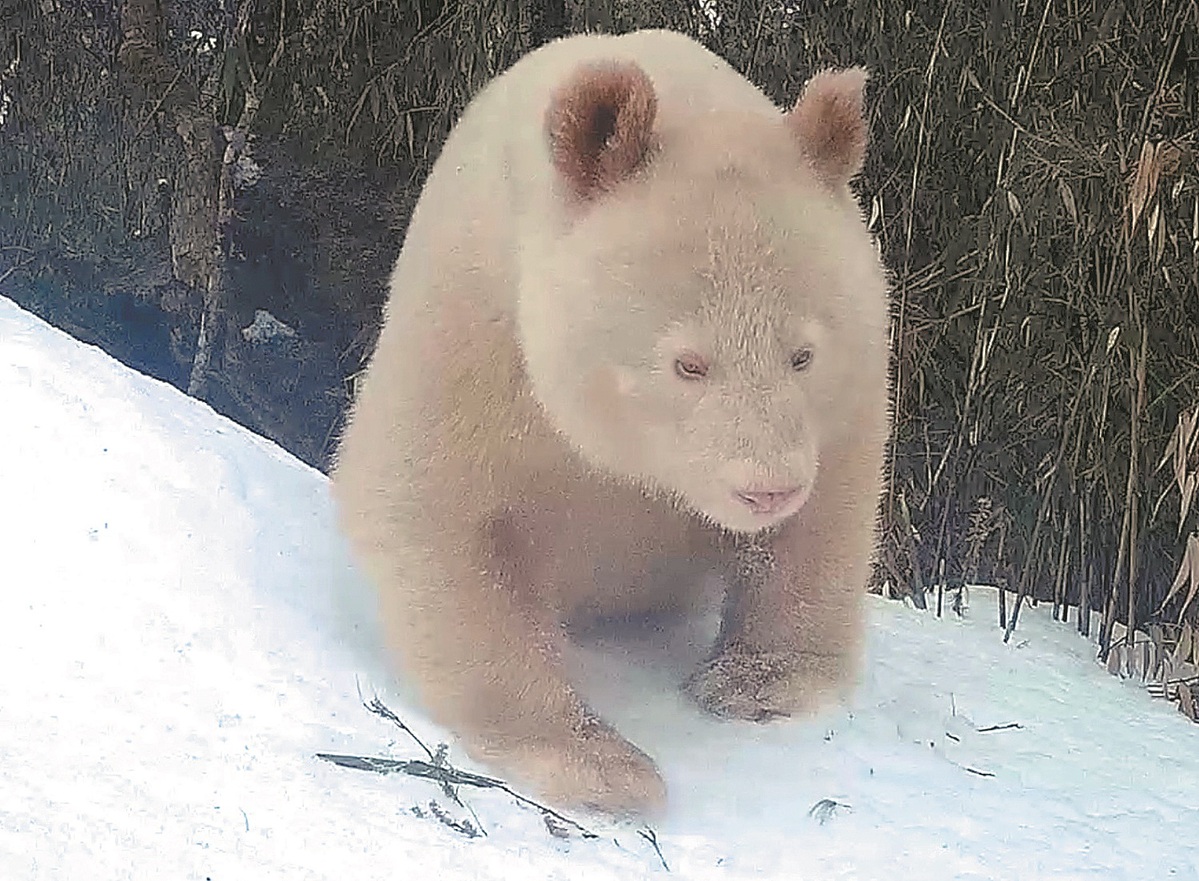 The latest findings about a rarely seen white giant panda have been revealed, including its gender, habitat and activities, said the management bureau of the Wolong National Nature Reserve in Sichuan province.
A DNA test confirmed that the white giant panda is male and video clips from infrared cameras showed that it interacts well with other bears.
A dedicated research team was formed in Wolong and has conducted tracking and monitoring for four years since the unique panda's sighting was released in May 2019.
Footage captured by infrared cameras has amazed experts and shed light on the behavior of giant pandas.
Tan Yingchun, a senior engineer at the reserve's management bureau, said that upon discovery of the white giant panda by a real-time infrared camera, a team immediately headed to the mountains.
They collected fresh feces and sent them for analysis using genetic sequencing technology.
In addition, analysis of the footage revealed that the interaction between the white panda and other pandas was marked by numerous visits to the same area.
The research team collected nearly 1,000 monitoring data points over the four years, documenting the interactions between the white panda and various wild pandas, including behaviors such as feeding, marking territory, and potential mating and fighting, the bureau said.
Li Sheng, a researcher at Peking University's School of Life Sciences, said that despite its distinctive appearance, the white giant panda's interactions and social behavior do not appear to be compromised.
"The white panda has built positive relationships with other individuals in the area. This remarkable adaptation illustrates the high-quality habitat, adequate food resources and effective conservation measures provided by the reserve," he said.
Tan said that the team has gained a basic understanding of the white panda's behavioral patterns.
"The frequency of its appearance is highest during the spring, which coincides with the mating season for giant pandas. Researchers are collecting feces and hair samples for DNA analysis, in hopes of gaining insight into its biology.
"The goal is to find out if there are other giant pandas keeping company with the white one in the area," he said.
lihongyang@chinadaily.com.cn