Life made easier for those facing difficulties
Share - WeChat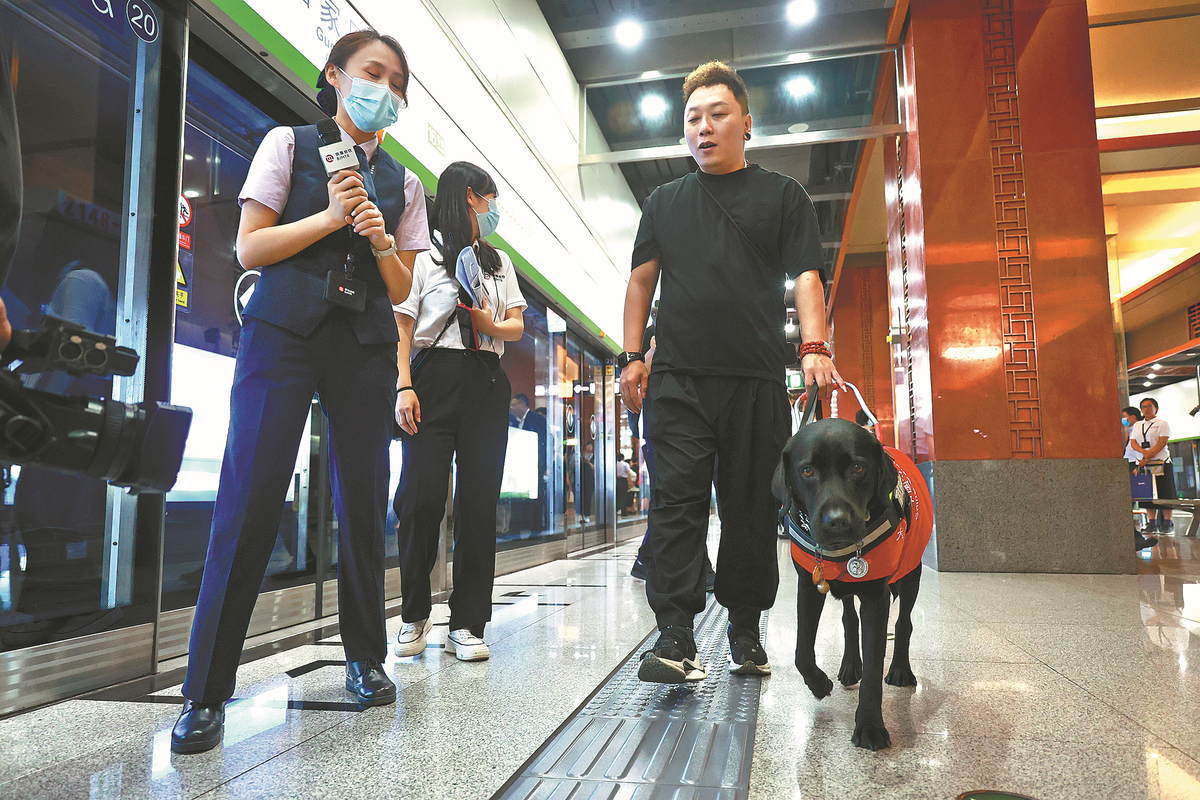 Barrier-free law brings significant benefits for the blind, visually impaired, among others
More large-font textbooks are to be published and offered to visually impaired students, thanks to national lawmaker Wang Yongcheng, who is blind.
Wang, a deputy to the National People's Congress, China's top legislature, traveled to Beijing from Fujian province in March to attend the first session of the 14th NPC, where he suggested the nation strengthen the publication and supply of such textbooks to meet students' needs.
He offered this advice after finding that more students with visual impairments are studying from the same textbooks in schools as those with good eyesight.
On June 28, a law on a barrier-free living environment was adopted by the NPC Standing Committee, which accepted Wang's advice.
Taking effect on Friday, the law makes it clear that China encourages the compilation and publication of textbooks in Braille or in versions for those with poor vision to provide better reading conditions for blind or visually challenged students.
Recalling the suggestion he made in March, Wang, who is vice-chairman of the China Association of the Blind, said, "The font size, colors and artwork in the textbooks currently in use can easily cause visual fatigue, meaning that the sight of visually impaired young people will worsen.
"To help resolve the problem and provide these people with a better platform for their voices to be heard, I submitted the suggestion to the top legislature."
The NPC paid great attention to the suggestion. It asked members of its Standing Committee's Legislative Affairs Commission to visit Wang in May to learn more about his ideas to optimize measures for the visually impaired. They also collected opinions on drawing up a law for a barrier-free living environment.
While providing special rules for children with visionary disabilities, the 72-article law also requires product manufacturers, especially those making food and drugs, to provide instructions in Braille or large fonts to better serve visually impaired and senior residents.
Official data show that by the end of 2021, there were 85 million people in China with disabilities, and 267 million residents who were 60 or older.
Shi Hong, an official from the NPC Standing Committee's Legislative Affairs Commission, said, "We initially formulated the law mainly to provide more convenience for the elderly and the disabled by giving them easier access to daily life.
"But during the formulation process, we took everyone into consideration to ensure they could benefit from the legislation, as we will all become old, or face situations such as becoming pregnant or breaking a limb, in which we need accessible services."
As a result, while many of the articles in the law highlight protection for the elderly and the disabled, everyone is covered by the legislation.
For example, the law requires industrial and information departments to urge enterprises to design and offer internet products and phone apps that are easier to use, and voice and offline services for those in need.
The legislation states that housing and urban-rural development agencies should further optimize the design of houses to prevent residents, especially the elderly and disabled, from slipping into bathrooms and kitchens.
Shi said he hopes that China's first law to focus on constructing a barrier-free living environment will benefit all groups of people.