Xi calls for expanding BRICS cooperation
Share - WeChat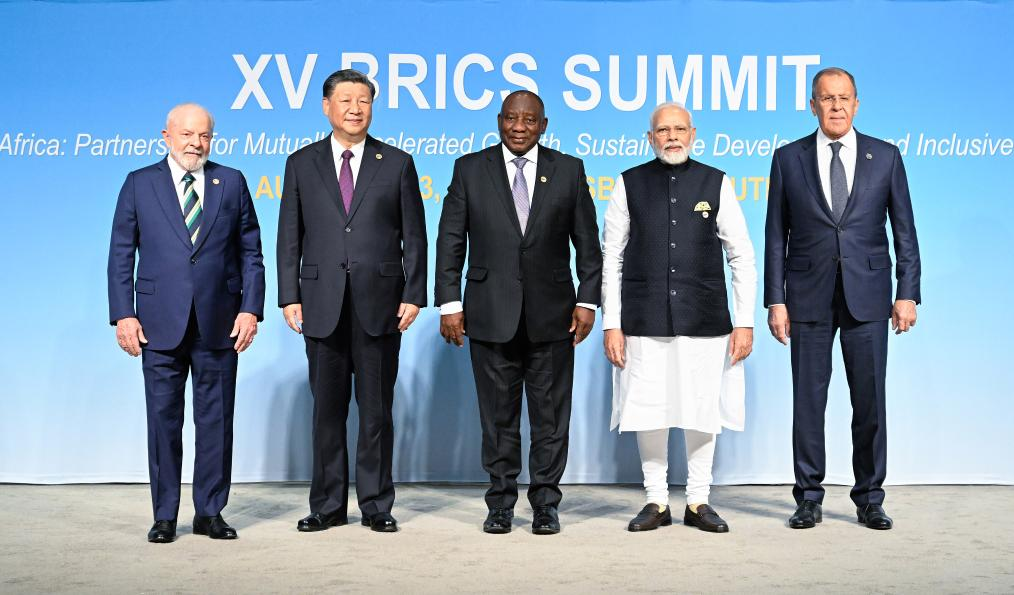 President says 'development is an inalienable right of all countries'
President Xi Jinping put forward on Wednesday a broad vision for expanding BRICS cooperation, calling on the grouping to foster high-quality partnerships, make global governance more just and equitable, and inject more certainty, stability and positive energy into the world.
In a speech delivered at the 15th BRICS Summit in Johannesburg, Xi highlighted the need for the group's members to be "fellow companions" on their paths of development and revitalization and to oppose decoupling, the severing of supply chains and economic coercion.
The summit brought together President Xi, Brazilian President Luiz Inacio Lula da Silva, Indian Prime Minister Narendra Modi and South African President Cyril Ramaphosa at the Sandton Convention Centre, with Russian President Vladimir Putin joining via video link.
"We gather at a crucial time to build on our past achievements and open up a new future for BRICS cooperation," Xi told the leaders.
He called on the grouping of major emerging markets to continue moving forward with business and financial cooperation to boost economic growth. "Development is an inalienable right of all countries, not a privilege reserved for a few."
He highlighted the shaky world economic recovery, saying that the challenges for developing countries are even more formidable, hampering their efforts to realize the United Nations' Sustainable Development Goals.
The BRICS countries, which account for around 42 percent of the world's population, 27 percent of global GDP and 20 percent of international trade, should cooperate particularly in fields such as the digital economy, green development, education and supply chains, and bolster economic, trade and financial exchanges, he said.
Xi laid out a host of measures that China will take to promote BRICS cooperation.
The country will set up a China-BRICS Science and Innovation Incubation Park for the New Era to support the commercialization of innovation outcomes. A global remote sensing satellite data and application cooperation platform will be established to provide data support for agriculture, ecological conservation and disaster reduction.
He stressed the need for BRICS to expand political and security cooperation to uphold peace and tranquillity.
As for the Ukraine crisis, Xi said the pressing matter now is "to encourage peace talks, promote de-escalation, end the fighting, and realize peace".
"No one should add fuel to the fire to worsen the situation," he added.
Xi made an appeal for the grouping to support each other on issues concerning respective core interests, and enhance coordination on major international and regional issues.
With BRICS already agreeing to launch a study group on artificial intelligence under the BRICS Institute of Future Networks at an early date, Xi called for expanded cooperation among the nations on AI and the stepping up of information exchanges and technological cooperation.
He said that BRICS countries need to champion the spirit of inclusiveness, advocate peaceful coexistence and harmony between civilizations, and promote respect of all countries in independently choosing their modernization paths.
With regard to improving global governance, Xi said international rules must be written and upheld jointly by all countries based on the purposes and principles of the UN Charter, "rather than dictated by those with the strongest muscles or the loudest voice".
He stressed the need for BRICS countries to practice true multilateralism, uphold the UN-centered international system, support and strengthen the multilateral trading system centered on the World Trade Organization and reject the attempt to create small circles or exclusive blocs.
As for the expansion of BRICS, Xi expressed delight at the growing enthusiasm of developing countries about BRICS cooperation, with over 20 countries already applying for membership in the group.
During the summit, South African President Ramaphosa highlighted the need for BRICS to advance the interests of the Global South and call for industrialized countries to honor their commitments to support climate actions by developing nations.
"We must ensure that the transition to a low-carbon, climate resilient future is just, fair and takes into account differing national circumstances," he said.
Other leaders highlighted the fact that so many countries have applied to join BRICS, saying this fully demonstrates the vitality, attractiveness and strategic value of the BRICS cooperation mechanism in international affairs.

Xi's quotes
・ No matter how the international situation changes, our commitment to cooperation since the very beginning and our common aspiration will not change.
・ We BRICS countries should be fellow companions on the journey of development and revitalization, and oppose decoupling and supply chains disruption as well as economic coercion.
・ International security is indivisible. Attempts to seek absolute security at the expense of others will eventually backfire.
・ There are many civilizations and development paths in the world, and this is how the world should be. Human history will not end with a particular civilization or system.
・ Ganging up to form exclusive groups and packaging their own rules as international norms are even more unacceptable.
・ We do not barter away principles, succumb to external pressure, or act as vassals of others.