'Father of migratory birds' still keeping his flock safe
Share - WeChat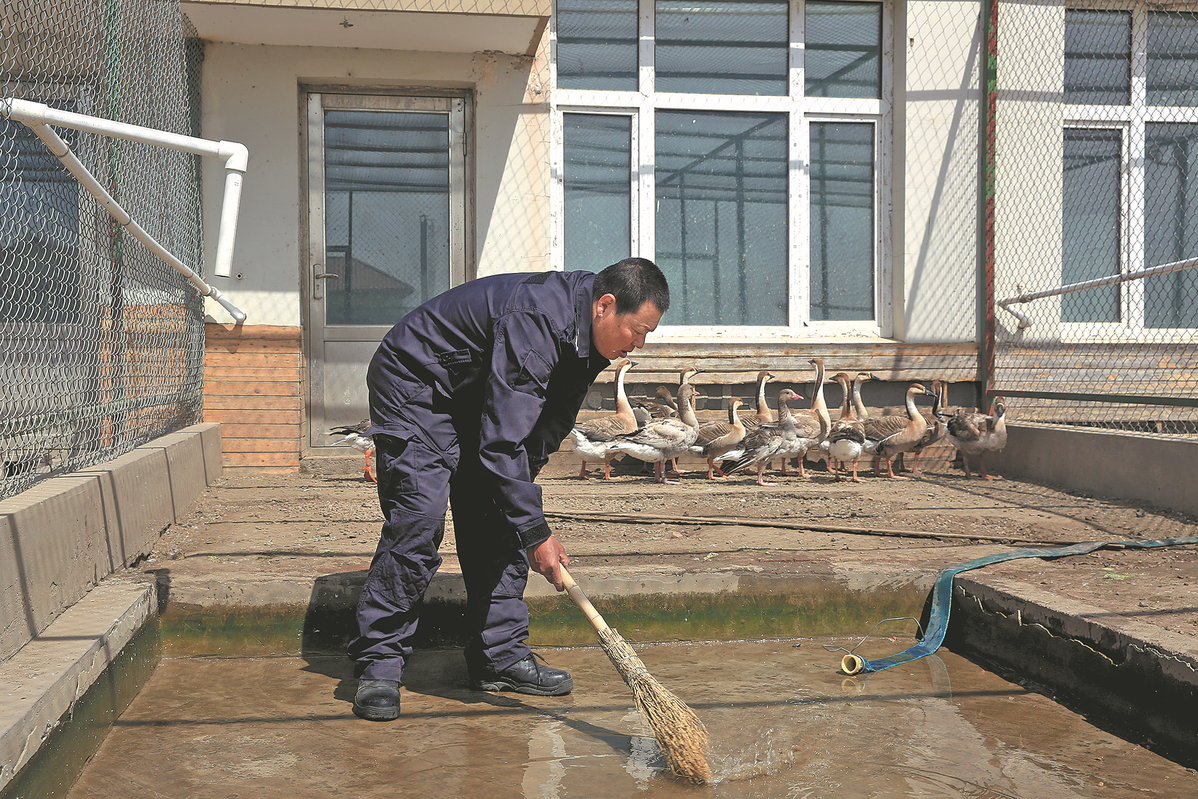 Xu Uudlekh has a deep emotional connection with migratory birds because he has taken care of them for the past 15 years at the Huihe National Nature Reserve in Ewenki Autonomous Banner, Hulunbuir, Inner Mongolia autonomous region.
The 45-year-old has been given the nickname "father of migratory birds" by his colleagues. As an important part of the Hulunbuir grassland, the reserve is a major habitat and way station for birds such as the great bustard and the red-crowned crane.
"I was a farmer in the region's Horqin Right Wing Front Banner, Hinggan League, before I started work at the reserve's management station in 2007," Xu said.
"My family lives with me at the station. I'm responsible for patrolling, assisting and taking care of migratory birds at the reserve."
He said that he usually looks after the birdhouse — which covers more than 300 square meters — on his own during winter, while six or seven colleagues arrive to help him from early summer to autumn, usually from mid-April to November.
There are nearly 100 birds in need of assistance at the management station, such as cranes and eagles.
Xu said he usually gets up early to feed the birds, which is hard work as each species has its own specific dietary preference.
"Cranes like fish, while geese eat corn and water grasses. We have a lake in front of the management station, so I fish there to feed the birds," he said.
"The work is harder in winter when the temperature falls to about-35 C. I feed the birds once a day, check their condition and report to my team leader if any emergencies occur."
In addition to feeding the birds and cleaning the birdhouse, he looks after dozens of injured birds.
"They are usually severely injured after crashing into cables or being attacked by predatory birds. Some of them are found by local villagers and sent to the management station," he said.
"There are also several birds we've raised for more than 10 years. We've brought up a red-crowned crane that we incubated from an egg that was stolen by poachers, so it doesn't have the ability to survive in the wild," he said.
"I named it Xiaohe, which means "Little Crane", and it responds every time I call its name. Two other red-crowned cranes have been receiving help from the station since last year."
He has assisted and taken care of more than 200 migratory birds in the past 15 years, and he has mixed feelings every time recovered birds are released back into the wild.
"I feel sad to see them leave, but also pleased that they have regained the ability to fly," he said.
"My job is meaningful not only to me, but to the birds, who may die without the necessary assistance. I was even concerned about the birds when I was with my wife as she was giving birth to our baby.
"Thanks to my work, I've had many experiences and gained so much knowledge about these birds. It's also lovely to hear the silvery birdsong every morning."