Wuyishan National Park aims to grow sustainable tea sector
Share - WeChat Editor's note: As protection of the planet's flora, fauna and resources becomes increasingly important, China Daily is publishing a series of stories to illustrate the country's commitment to safeguarding the natural world.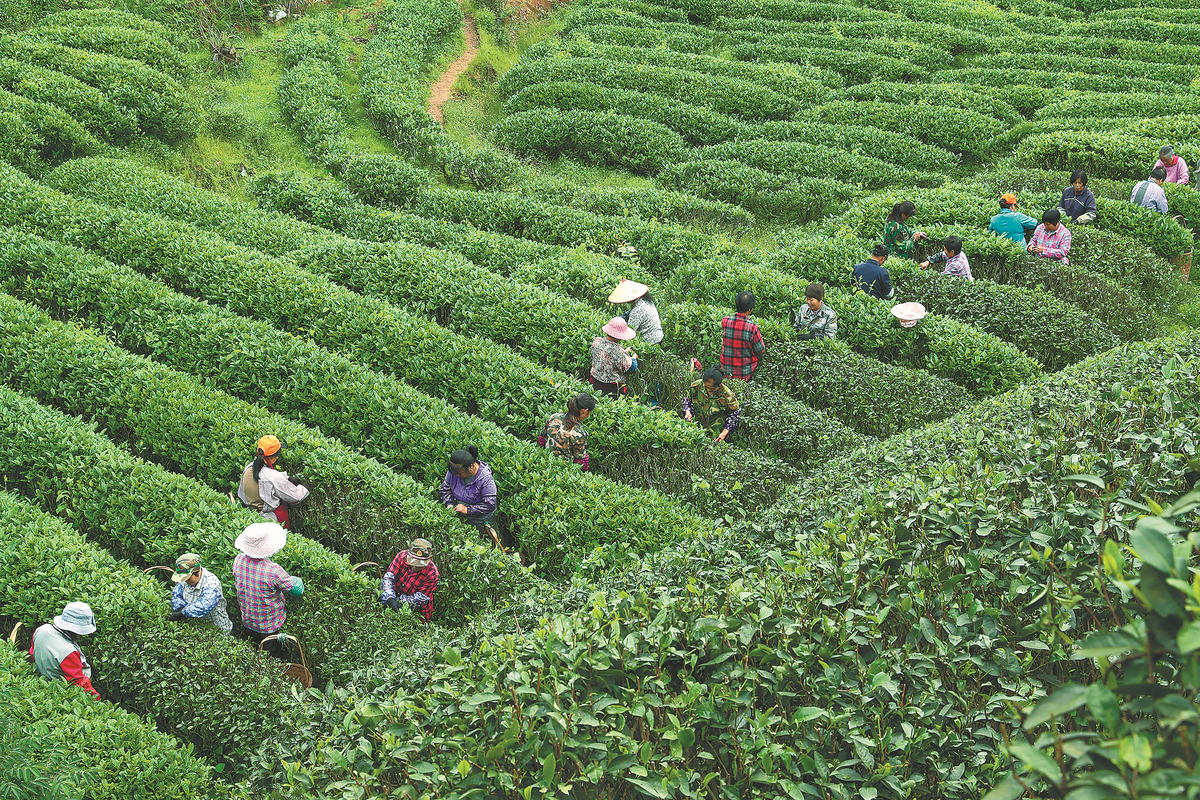 Scientific advances and restrictions on land use are helping to raise the incomes of local growers and protect the environment. Hu Yumeng reports.
In recent years, the Wuyishan National Park, renowned for its breathtaking landscapes and revered tea industry, has taken significant steps to safeguard its traditional tea heritage and industry, while embracing technological advances to empower farmers and raise the incomes of local people.
Home to one of China's largest and most diverse subtropical forests, Mount Wuyi is the only place in the country where Wuyi rock tea is grown.
"Wuyi rock tea, known for its mineral-rich floral aroma, possesses a distinctive and crucial fragrance that comes from the unique soil and rocks of the region," said Huang Shengliang, an inheritor of China's national-level intangible cultural heritage of Wuyi rock tea craftsmanship. "Only tea planted in our rocky soil can produce such a distinctive taste."
With tea cultivation dating back over 1,000 years, the mountain's tea industry has a rich history. The area has been providing tea for people at home and abroad since the first century CE, and in the 18th century, Wuyi rock tea was the most popular tea in Europe.
However, its popularity was gained at a cost to the local environment. Illegal land reclamation of tea mountains and the destruction of plant resources have occurred frequently, damaging the environment in the area around Mount Wuyi.
The need to strike a balance between farmers' livelihoods and the local environment has emerged as a unique challenge for the Wuyishan National Park, which covers 1,280 square kilometers as it straddles the eastern provinces of Fujian and Jiangxi. It was established in 2021 as one of the first batch of China's national parks.
The park authorities said the facility has a tea cultivation area of 34.54 sq km, accounting for 2.7 percent of its total expanse.
The authorities have cooperated with tea experts to devise a holistic strategy for the protection and improvement of the Mount Wuyi tea industry and biodiversity, ensuring the sector's sustainability for generations to come.