Harvesting success
Share - WeChat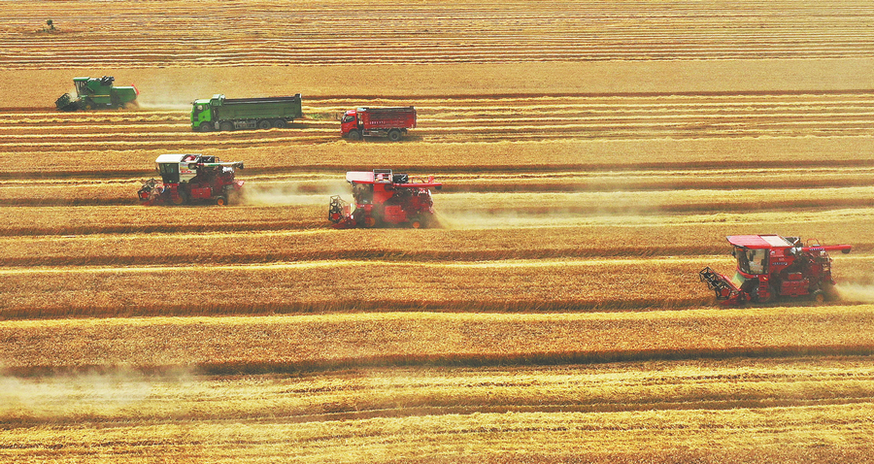 With the wheat harvest in full swing, China had gathered 53.8 percent of its crop as of Wednesday, reaping about 10.93 million hectares of farmland, official data released on Wednesday by the Ministry of Agriculture and Rural Affairs showed.
According to the ministry, wheat harvests in Sichuan and Hubei provinces are almost done, while in Anhui province about 90 percent have been completed and in Henan province 80 percent have been finished. In Shandong and Shaanxi provinces, harvests are nearing their peak.
Taking up about a quarter of the country's total annual grain output, the harvest is hugely significant in achieving the annual grain production target. Traditionally, the summer harvest spans the period from late May to mid-June.
However, due to the continuous rain since late May hitting Huanghuai, a major wheat producing area between the Yellow River and the Huaihe River, when wheat crops were beginning to ripen, grains could fall in weight and quality, experts say.
To offset the effects brought by recent rainfall that has affected the wheat at its ripening stage, various efforts have been taken by central and local authorities.
During the harvest, 16.5 million sets of machines, including more than 600,000 combine harvesters, have been dispatched across the country's main wheat production areas, according to the ministry.
To guarantee a smooth harvest, more than 3,200 reception service stations were set up along the major roads and at the entrances of highways to better serve the harvest teams, according to the ministry. To help farmers with difficulties in the period, more than 6,000 emergency teams have been established nationwide.
More than 1,100 hotlines have been set up by governments at provincial, city and county levels.