The sound of music from before
Share - WeChat In the age of the internet, vinyl records make a surprising comeback, Chen Nan reports.
Vinyl records have experienced a surprising resurgence over the past few years.
"Physical format revenues, including CDs, vinyl and other physical formats, increased for a second year running," states an annual report by the International Federation of the Phonographic Industry, which was released in March. "Within this, revenues from CD and other physical revenues saw a slight decline whilst vinyl's upward trajectory — sustained for more than a decade — continued with growth of 17.1 percent in 2022."
People may wonder about the reasons why someone would pay for a secondhand copy of a scratchy plastic disc that plays only on a costly turntable, when he or she could stream the same song or the same album on digital platforms at a much lower price.
"It's a minority taste but we've seen an increasing number of people, especially the young generations, who are embracing the vinyl records," says Chen Huina, deputy director of the Classic Books Reading Department of the National Library of China in Beijing. "Vinyl records stand in opposition to today's rapidly innovative, digitally driven world. Nostalgia's role is crucial. It is like an escape from the busy modern life.
"The experience of discovery, acquiring and listening to music is now so easy and commonplace. But the value of music should not be diminished," she adds.
On the fourth floor of the National Library of China, visitors are offered a space to enjoy vinyl records, where they listen to old songs and learn information about the vinyl records.
The area, covering nearly 1,300 square meters, opened to the public in September 2017. This year, it has been updated with new functions, highlighting interactive programs, which allow visitors to not only listen to the vinyl records in the area, but also keep related vinyl records information on their phones.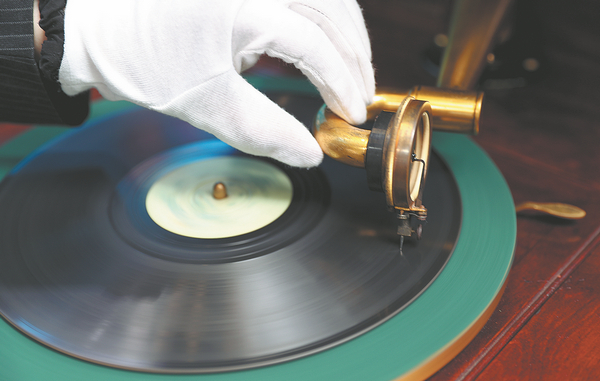 Marking this year's World Book Day, which fell on April 23, the National Library of China held an exhibition to introduce more than 70 Chinese vinyl records, covering a diversity of music genres, such as classical music, instrumental music and traditional Chinese operas.
One of the most important and recognized vinyl records is My Motherland, which was recorded by the China Record Group — one of the oldest and biggest record companies in China — in 1959. Veteran Chinese singer, Guo Lanying, who is now 92 years old, performed the song at that time. My Motherland was first released as the theme song of the Chinese war movie Shangganling in 1956. The song, written by songwriters Qiao Yu (1927-2022) and Liu Chi (1921-98), became a classic, which is still performed today.
"Audiophiles often say that vinyl records have a 'warmer' sound. They find that a slight distortion and the needle scraping across the vinyl records may just be something people find pleasing," says Chen.
The National Library of China has its own vinyl records collection, which started in the late 19th century. Now, it has more than 25,000 vinyl records — about 2,000 Chinese vinyl records and over 20,000 vinyl records in foreign languages, such as English, German, French and Italian.
A total of 1,166 copies of 78 rpm discs, which were known as shellacs or coarse-groove gramophone discs, are among the most valuable collections at the National Library of China, mostly recorded during the 1950s and '60s. (Rpm stands for revolutions per minute. It is a measurement of the rotational speed of the motor shaft.)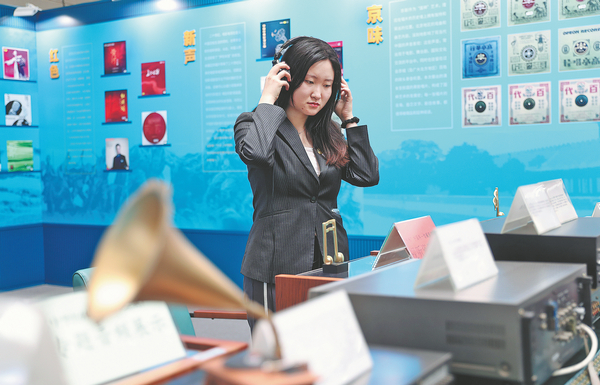 According to Chen, those valuable discs are mainly of revolutionary songs, such as songs featured in revolutionary movies and songs from yangbanxi, a series of revolution-themed modern Peking Opera and ballet works produced during the "cultural revolution" (1966-76).
The main difference between vinyl records and 78 rpm discs was due to the groove cutting technical capabilities. In 1948, Columbia Records marketed the first vinyl records, which usually had two speeds: 33 rpm and 45 rpm. Since then, discs were no longer made out of shellac.
"Some of those discs were recorded right after the founding of the People's Republic of China in 1949, which makes them very precious," Chen adds.
Contact the writer at chennan@chinadaily.com.cn
Most Popular