Countryside areas transformed over past 20 years
Share - WeChat Editor's note: In a series of reports, China Daily explores the pursuit of high-quality development nationwide.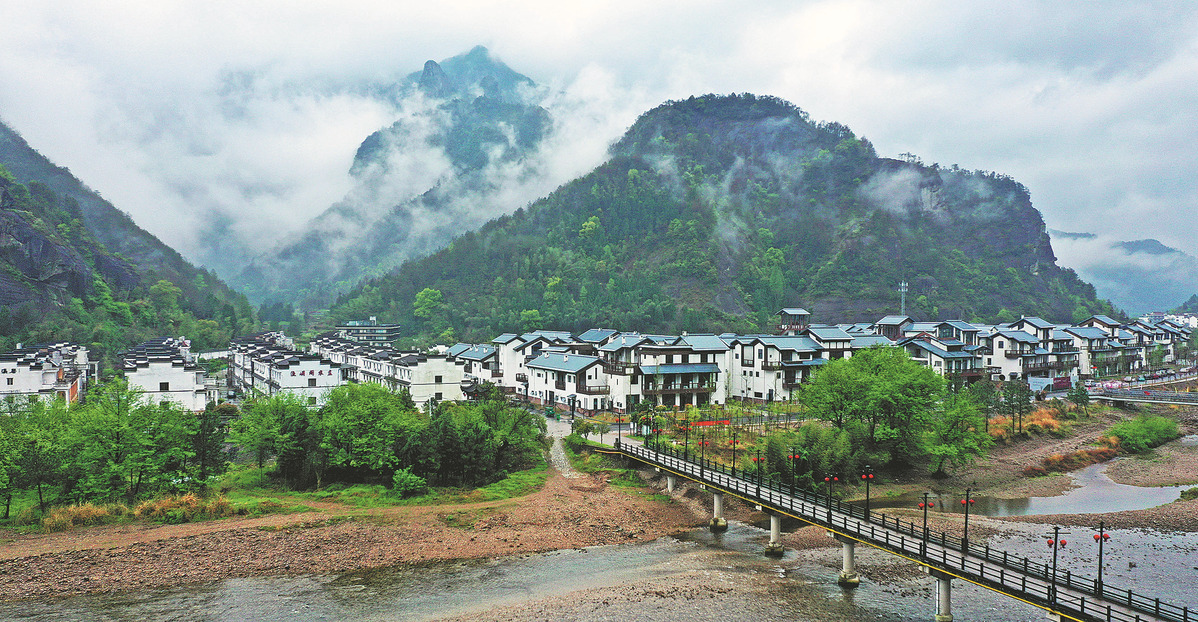 Program to revive environment brings impressive benefits
The May Day holiday last month was a hectic time for Chen Jinwei, with the homestay his family runs in Zhejiang province catering to 56 visitors and bringing in revenue of around 130,000 yuan ($18,200).
"It was good business," said Chen, 57, who comes from Xiaye village, Xianju county.
Located in the western part of Taizhou city, the county is renowned for its mouthwatering yangmei — also known as waxberry or Chinese bayberry — and its breathtaking scenery.
"Xianju" translates as "dwellings for immortals" or "residences for celestial beings". Covering an area of more than 2,000 square kilometers, the county is home to hundreds of species of flora and fauna.
Junpu, believed to be the earliest detailed written study of edible mushrooms, was written in 1245 by Chen Renyu, a Xianju resident, during the Southern Song Dynasty (1127-1279).
Xianju also boasts one of China's most popular attractions — the Shenxianju Scenic Area.
Visitors have some idea of what to expect even before they arrive in the area — majestic mist-covered mountains shrouded in clouds.
Shenxianju Tourism Group, which manages the site, said nearly 1 million visitors were drawn to the scenic area in the first five months of this year, with total revenue reaching more than 170 million yuan, more than tripling the figure for the same period in 2019.
Situated in the foothills of the Shenxianju mountains to the west, Xiaye village is home to a population of over 1,500. With a river providing drinking water, and with neat houses lining its tidy streets, nearly every household in the village is connected in some way to the agritainment business, or farm-based entertainment.
Official figures show that Xiaye has 120 homestays, seven of which have won recognition from the French Development Agency. Last year, the village welcomed more than 590,000 visitors.
Locals often tell those visiting Shenxianju and staying in nearby villages they can either choose to experience what it feels like to be immortal by visiting the scenic area, or enjoy the idyllic scenes in the villages as mere mortals.
But Chen said that life in Xiaye was not so good in the past.
In the late 1990s and early 2000s, dilapidated houses strewn haphazardly about the village were the rule, rather than the exception, he said. Chicken coops, pig pens, open-air toilets and residents' homes were in close proximity and rubbish lay on the ground.
"The air stank. When it rained, sewage mixed together and flowed on to the roads," Chen added.
Many villagers, including Chen, went to the cities to seek better opportunities.
However, in the mid-2000s, the situation started to change for the better. There was less trash in the village, roads were paved section by section, rivers gradually cleaned up, and a proper bridge was built to connect an area of southeastern Xiaye to the outside world.
The improvements were the result of a province-wide campaign introduced in 2003.
On June 5 that year, World Environment Day, Xi Jinping, then-secretary of the Communist Party of China Zhejiang Provincial Committee, officially initiated the Green Rural Revival Program in Zhejiang. The program aims to transform some 10,000 out of 40,000 villages in the province in the next five years by combining water management, waste management, recycling and a series of other ecological measures — turning 1,000 of the villages into examples of moderate prosperity in all respects.
However, instead of being staged over five years, the program has since developed into a long-term project, as rural residents such as Chen reap continuous benefits.
With an improved environment and infrastructure in villages such as Xiaye, in 2010, the authorities in Xianju began to invest heavily on renovating and building new houses for rural residents, turning some of these properties into homestays to benefit from the rapidly growing tourism industry.
Since then, Xiaye and many other villages have done much more, including building collective "livestock apartments" so that residents can raise their animals away from their homes. A modern sewage treatment system has been put in place, and trash-sorting promoted, among other measures.