Artist in wheelchair inspires others facing challenges
Share - WeChat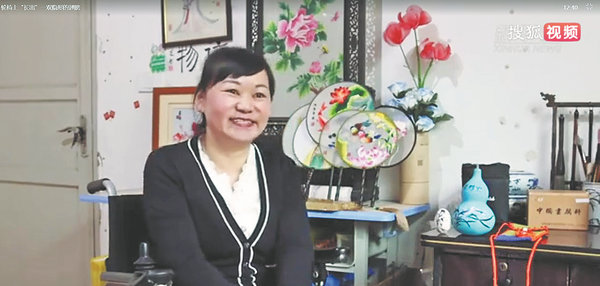 GUIYANG — Ling Runzhi, 41, who has used a wheelchair ever since she was 6, listens to an online class about modern Chinese landscape painting with rapt attention.
With a few deft strokes of her paintbrush, Ling skillfully brings to life a black-and-white work of art, adorned with delicate textures and captivating contrasts. Despite the loss of sensation in her lower body from congenital spina bifida, this talented artist refuses to let her physical limitations hinder her creativity.
Ling's art has not only helped her fulfill her own dreams but also offered a window to a broader world for others like her. Through her art, she helps them experience the beauty and wonders of the world on a broader scale.
"There was once a dark phase in my life. My parents were busy with farmwork and my sisters were at school, so I had to stay at home by myself. Constant loneliness and fear were my only companions," said Ling, who is from the village of Bianshan in Guiyang, capital of Guizhou province.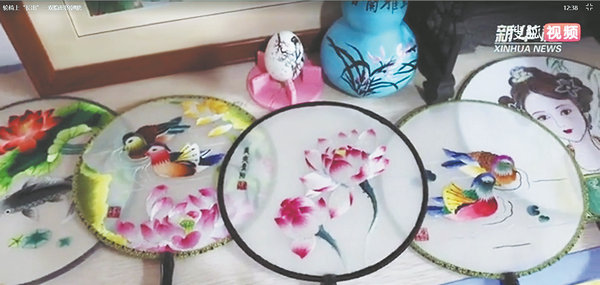 During that time, without access to a wheelchair, Ling resorted to sitting on a simple wooden upright chair at home. To maneuver, she would painstakingly edge the chair forward, which often resulted in her hands and legs getting scraped and bruised.
Guided by a supportive sister, Ling learned to read characters. Her sister also purchased a collection of ancient paintings by Chinese women, which helped inspire Ling. "I started to replicate the paintings myself. Books and the world of painting soon dispelled my gloom," she said.
In 2003, captivated by the intricate and exquisite patterns of embroidery, a signature craft in Guizhou, Ling began to explore the art of conveying traditional elements of Chinese landscape paintings through stitchwork.
With a keen eye for detail, Ling delved into the techniques of presenting elements such as flowers, birds, insects and fish in her needlework, adding a new dimension to her artistic repertoire.
She later went on to hone her skills by participating in several competitions for the handicapped in Guiyang, winning more than 40 awards. The growing recognition of Ling's art has not only bolstered her confidence but also brought a renewed sense of hope and joy to her life.
During her pursuit of a deeper understanding of modern Chinese landscape painting, Ling came to know Fang Guocheng, a painter from Heilongjiang province who is also paralyzed, in her case as the result of a car crash.
"Through meaningful online interactions, I established profound connections with more and more people who faced similar situations. As I freely shared my own learning and experience with these people, I embarked on a remarkable journey of mutual enrichment," she said.
Since then, Ling decided to create more painting and embroidery to capture the vibrancy and beauty of the world for people who find themselves challenged by adversity, particularly those who are paralyzed.
May 21 marked China's 33rd national day of assisting disabled persons. This year's goal is to improve social security programs and services for persons with disabilities and promote the all-around development of their undertakings.
"After my embroidery and paintings were exhibited in Guiyang, many people with disabilities became familiar with my personal experience, which inspired them to take up art and enrich their own lives through traditional handicrafts," Ling said.
Her care and concern for others and unwavering passion for artistic expression have instilled within her a new dream of setting up her own studio. Through this endeavor, Ling aspires to cultivate an increased interest in Chinese traditional culture and foster the inheritance of valuable cultural heritages.
Adorning Ling's window ledge is a flourishing planting of green copper coin grass, nurtured in a swanlike flowerpot meticulously carved by Ling herself from a humble plastic box. The grass serves as a reminder of the resilient and unwavering strength inherent in life.
"Every single plant and its growth represent power and hope in our life. As long as we live, we must strive to grow like plants, which will surely lead to favorable turns someday," Ling said.
Most Popular