Man to sit gaokao for 27th time to realize his dream
Share - WeChat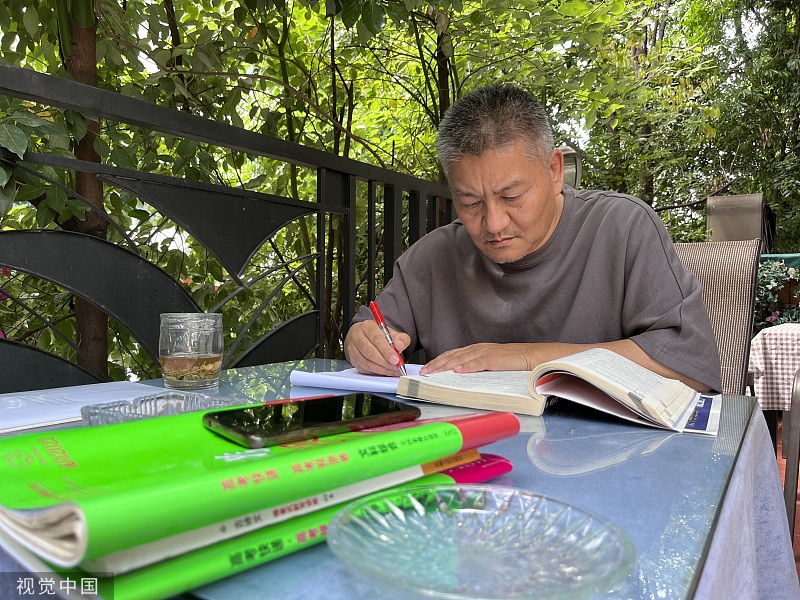 What does the National College Entrance Exam, or gaokao, mean to Chinese? Everyone has their own answer. For Liang Shi, it's the only way to realize his dream of becoming a college student, Bandao Metropolis Daily reported.
At the age of 56, the Sichuan native will sit the exam on Wednesday for the 27th time.
In 1983, Liang attended his first gaokao but failed. He tried again in the next two years but saw no luck.
In 1986, his parents persuaded him to go to a technical school. He quit after just one year. He said he didn't want to work alongside loud machines.
He kept preparing for the test and did odd jobs.
In 1991, he went to work at a timber factory and got married. But he didn't give up on gaokao.
In 1992, he could only attend adult gaokao due to the age limit. He was admitted to Nanjing Forestry University, but he wasn't satisfied with it, so he didn't go.
In the same year, he was laid off. To raise his family, he worked as a salesman. He sold clothing, refrigerator, TV and hardware. Later he opened a building material factory and earned a million yuan in less than a year.
In 2001, the Ministry of Education canceled the age limit to attend gaokao. Liang picked up his books again.

Buried in his business, he only had time to sit the exam in 2002 and 2006. From 2010 to 2022, he sat for the exam for 13 consecutive years.
His best score came in 2018 when he got 469 out of the total 750. In 2019, he scored 462. But he didn't apply any university because his goal was Sichuan University, a Double First-Class university.
His repeated tries have earned him a reputation in gaokao and are met with mixed responses. His son, who took the test in 2011 with him and has graduated with a master's degree, doesn't want him to be under the spotlight. His wife said nothing so Liang took her silence as supportive.
Some netizen say he is wasting time and energy and he is putting on an act. Liang doesn't care about others' judgment. "Everyone pursues different things. You can't say who is right who is wrong. As long as the law permits, it's reasonable," he said.
To prepare for the exam, Liang leaves home at 8 am, takes the subway to study at a friend's teahouse and goes home at 9-10 pm. There's a fixed table for him. At noon, he takes a nap on the bench.
At such an age, Liang said he finds it hard to get up early. He wants to realize his dream as soon as possible so he has decided not to fix his goal on Sichuan University this year. "I'll be ok with a key university. If my score is sufficient for a key university, I'll attend it," he said.